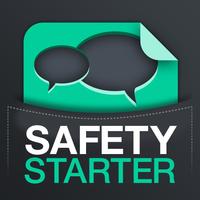 Sentis Safety Starter
Free Get
Sentis Safety Starter Description
Sentis Safety Starter is a free app designed to enhance and improve the delivery of industry Safety Pre-Start meetings - a godsend for any supervisor or group leader. Built around a variety of safety share topics which prompt and enrich critical conversation, the app is designed to ensure your meetings are both interesting and effectual.

Providing an intuitive user experience, the Sentis Safety Starter app was developed around four practical functions for everyday use:

• Activities: Prompts for daily action, focusing your team's safety attention
• Questions: Targeted inquiry to stimulate mindful safety behaviour
• Conversations: Powerful topics to get your team talking safety
• Information: Motivating facts and statistics to reinforce your safety message

This applied and practical app also provides the end user with an observation tool that will forever change their approach to safety reporting. Synchronised with the iPhone camera functionality, the Safe Leader App allows users an integrated forum to:

1. Photograph hazards
2. Apply notes and observations
3. Set GPS coordinates of the location
4. Store hazard report if outside internet service provision or;
5. Email report for internal action

Plus:

• Favourites list for quick retrieval of preferred content
• Useful inbuilt 'how to' guide
• Help videos
• To experience change in how your leaders deliver Safety Pre-Start meetings and report incidents, download now!
Sentis Safety Starter 1.1 Update