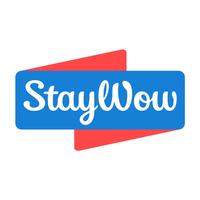 StayWow - Lifestyle Change
Not Available
Removed
from the App Store
Screenshots for iPhone
More Screenshots for iPad
StayWow - Lifestyle Change Description
The functioning of StayWow

1. Any program can tell you to eat less and move more. StayWow is different. StayWow runs a 90-day Lifestyle Change Program that helps you create lifelong healthy habits 'systematically.'

2. It is NOT a typical diet app. Rather than making you follow strict rules and quick diets that are difficult to maintain, StayWow aims to help you develop a better 'daily routine' by improving your nutrition, sleep, hydration and exercise habits.

3. Every morning, you will be given a list of tasks along with a goal score. For every task you complete, you will earn certain points. Your aim will be to achieve a goal score by finishing the given tasks on your to-do list, which is mentioned above. When you succeed in reaching your goal score, you will achieve your 'Perfect Day.'

4. Thereafter, achieving a 'Perfect Day' will be your everyday goal.

5. It is okay if you can't finish all the given tasks on your to-do list. Try to complete as many as you can. Aim to reach the day's goal score. Give your 100% and try to achieve your 'Perfect Day.'

6. You will get unlimited 1-on-1 personal health coaching from StayWow health team. You are free to consult qualified dieticians, behavior change specialists and fitness coaches as and when you need support during the entire program.

7. Based on primary assessment, our experts will design a personalized daily routine that explicitly suits your needs, habits, and inclinations.

8. Your daily routine will include three plans: Diet Plan, Workout Plan and Sleep Plan.

9. On every third day, our behaviour change specialists will conduct your behavior analysis, based on which the expert will divide your habits into three groups: Strong, Medium, and Weak Strength.

10. The behaviour change specialist will focus on helping you improve your medium-strength habits at first because they fall in the middle of the road between the strong and weak, which means, the chance of becoming strong is high for medium-strength habits category.

11. If in between you need any habit-building related help; you are free to consult one of our behavior change specialists from the health team anytime. Our expert will guide you in transforming your habits from medium strength to stronger ones.

12. To support your habit-building process further, our behavior change specialist will continuously keep a watch on your completed tasks. Based on those observations, the expert will write you feedback addressing your specific behavior change issues, reading which; you can recognize your weaknesses and improve your behavior accordingly.

13. To make your journey easier, we will give you the Lifestyle Change Blueprint. It is a step-by-step guide to making lifestyle changes that aim to help you drop body fat % and achieve the best weight possible in the context of overall health. It aims to create a foundation for a healthy lifestyle by helping you develop the mindset of an athlete so that you start making wise decisions on your own.

14. On the 10th day, we will check the initial response of your body. We need to know how your body is reacting to the program; hence, will constantly be checking the sustainability of the program and examining whether you are finding it easy to follow or not.

15. On the 8, 18, 40, 54, 70 and 80th day, we will revise your diet plan, considering even the smallest details about your behavior changes, current habits, food preferences, and sleep timings.

16. On the 14, 28, 44, 58, and 74th day, your exercise program will be revised according to your current performance and fitness level.

17. On the 30, 60, and 90th day, we will perform a total assessment and gather information about your body measurements and other body facts to check your progress and revise your program depending on results.

18. For any program-related help, feel free to contact the client relations manager on WhatsApp 98798 55999 or email at support@StayWow.com.
StayWow - Lifestyle Change 2.3 Update
New Features added. Please read description or check "What You Get" on the main page.
More