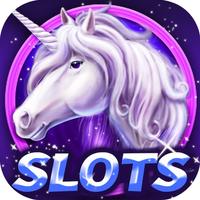 Unicorn Slots Casino 777 Game
Free Get
Unicorn Slots Casino 777 Game Description
Spin your way through an enchanted forest full of magical creatures and coins, coins, coins!
Roll wild Unicorns to increase your chances to win and cash in with rainbow Jackpots.
Boost your balance with brilliant bonuses for mega wins that turn your slots fantasies into a reality.
Enjoy incredible graphics and sounds that carry you away to an enchanted land of winning adventures.
Play mythical slot machines, win big bonuses, free spins, and hit the Jackpot. Bet. Spin. Win.
This magical slots app is full of magical creatures in every slot machine. Play with Fairies, Unicorns, Centaurs, Griffins and other beautiful, enchanted beings.
- Roll the dice, and get the Jackpot chest filled with gold on the Devil's Play machine.
- The Enchanted Unicorn machine is full of rainbow jackpots, fairy bonuses and wild unicorns.
- Get free spins with the wild Centaur, the mermaid in the Mythical Beasts machine.
- Meet the fortune teller in the Gypsy Caravan machine, hit the crystal ball jackpot and win big.
- Go wild with Lucky Leprechauns to win pots of gold, 4 leafed clovers and out of this world wins.
More magical free casino bonuses & features
- Collect hourly free slots BONUS coins.
- Enjoy epic bonus games to win more coins.
- Walk through 3D maze to collect extra coins.

Spin your winning Unicorn game and enjoy the mega wins.
This free Unicorn slots casino game has awesome graphics and is full of uncanny style.
Everything is in a mystic and enchanted setting of your dreams. Crystal balls, Mermaids, Griffins and so much more - all are waiting for you in this amazing Unicorn slots free game.
Discover why this unique Unicorn slot game has everyone coming back for more, more, more!
Unicorn Slots Casino 777 Game 1.699 Update
You will not believe what we have in store for the new version!
Follow Alice down the rabbit hole in Wonderland Magic for a cascading adventure.
Collect magic potion symbols to win mirroring reels free spins. You've gotta see what happens when you do!
Say hello to Raccoon Hood! He's stealing from the rich & giving to everyone! Prepare to go wild!
Spin underwater adventures in Mermaid Tale. Get ready for the mermaids spoil you with extra rewards!
Spin Night of the Wolf for sticky wilds, free spins & win multipliers that'll have you howling!
Enjoy a new look for our previously loved rewards and animations and spin your way to endless fun and excitement!
More