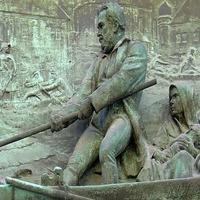 Vízi emlékek
$9.99
Vízi emlékek Description
BOOK@HAND - guide of memorials of water management

MAGYAR: A BOOK@HAND teljes tartalma elérhető magyar, angol és német nyelven. Az alapértelmezett nyelvet az installálásnál kiválaszthatja, és az alább írtakat magyarul olvashatja.

Az ember és víz kapcsolata ezernyi szálon szövődik. Ám a víznek nincs története, csak az embernek, az emberiségnek. Ez adta a gondolatot, hogy bemutassuk vízzel kapcsolatos emlékeinket. Ha széttekintünk Magyarországon, számos ilyent találunk, kicsit és nagyot egyaránt. Nem csak 111-et, hanem sok ezernyit!

Csaknem háromezer vízi létesítmény és emlékhely legfontosabb adatait gyűjtöttük össze és katalogizáltuk az elmúlt két évtizedben – a vízügyi igazgatóságok, a víz- és csatornamű vállalatok, a vízgazdálkodási társulatok aktív és nyugdíjas munkatársainak közreműködésével, valamint a vízügytörténet iránt érdeklődők önzetlen segítségével. Hihetetlenül sokféle, különböző korú és sorsú vízi emlék létéről szereztünk így tudomást; vannak köztük római kori építmények, történelmi hidak, vízimalmok, árvízi emlékművek, árvíztáblák, gátőrházak, forrásfoglalások, kutak, díszkutak, víztornyok duzzasztóművek, szivattyútelepek, zsilipek, vízügyi emlékhelyek és sok más egyéb.

A vízi munkák természetéből fakad, hogy többségük eredménye egy-egy műtárgyban, építési objektumban ölt testet immár évszázadok óta. Ezek egy kiállításon bajosan láttathatók, viszont egy könyv lapjain, egy mobil eszköz képernyőjén bemutathatók. Ezzel az eszközzel, amely most az Ön képernyőjén megjelenik, a szakmai és a szélesebb közvélemény figyelmét szeretnénk felkelteni a magyar vízgazdálkodás értékei, történeti emlékei iránt.

A szerzők: dr. Szlávik Lajos és Fejér László

ENGLISH: BOOK@HAND provides information in English, German and Hungarian. You can choose the default language when installing BOOK@HAND to your mobile.

EXPLORE WITH OFFLINE MAP
You can also discover the points of interest on your own, using the Map button and our offline city map. Whenever you approach a point of interest your device will automatically provide you with basic relevant information. You can then choose to listen to additional, related stories.

MEMORIALS YOU CAN SEARCH AND DISPLAY ON YOUR MAP
BOOK@HAND also helps you choose from a range of memorials near you.

INSTALL:
By installing BOOK@HAND, you already have access to our offline maps. Your current location will be indicated on the map and you can easily browse various memorials.

Have fun and enjoy discovering!
Vízi emlékek 6.5.0 Update
Application update with the newest functions of GUIDE@HAND application family.
More