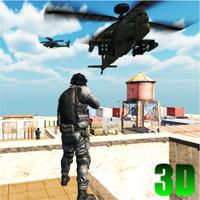 War Of IGI Commando 2017
Free Get
Screenshots for iPhone
More Screenshots for iPad
War Of IGI Commando 2017 Description
One of your Base Camp has taken control of other country and all the Important Buildings are guarded by the Enemy Soldiers. The Wall Of Berlin is Compromised. Lots of Good Soldiers have fallen today. Start a CIVIL MUTINY within the Base Camp and free your Base Camp from the Evil Claws Of Enemies.
Your are a Best ranked soldier thats called IGI commando,

This is the Story of IGI commando Sniper and Action Commando like as frontline commando warrior at the military area with high range shooter guns.
It is very fantastic and attractive graphics commando action game. groundbreaking,collaboration,crowd game sniper attack on enemy and kill them and not enter your secret area. War Has begin into the camp , War of IGI and others soldiers has started
Take Tanks , Helicopter and gunship marine and subrine to destroy your enemies into the camp.Submarine trained IGI commando
and normal soldiers are ready to take thier on part of Game action and adveture entertianing Commando into the base mission. campmission

GAMEPLAY FEATURES of War Of IGI Commando:

** FPS easy weapon controls
** Weapon realoding and VIP sounds Action
** List of Eight Primary Weapons
1: Gernades
2: Sniper
3: MP5
4: M4
5: BOW
6: AK-47
7: M1191
8: ShotGun
** Three Main Mission
1: Base Camp Mission (6 Levels)
2: Gunship Helicopter (6 Levels)
3: Castle Rescue Mission (6 Levels)
4 : All Combination of soldier Weapons(Sniper , Rocket Launcher etc)

How to Play War Of IGI Commando:

1: Keep eyes On Radar to locate enemies Position and mission Objectives
2: Use Shoot , Zoom , Crouch , Stand , Weapons Switch button by pressing on it for action
3: keep eyes on Health

Note : War of IGI Commando 2017 conatin ads , please support us.
War Of IGI Commando 2017 1.0 Update