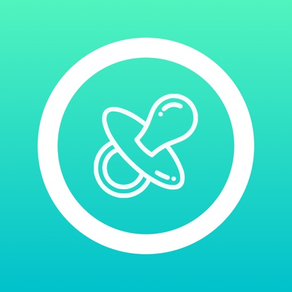 Baby's Vision - How Babies See
Explore and learn together
Free
Offers In-App Purchases
2023.8
for iPhone, iPad and more
Baby's Vision - How Babies See Screenshots
About Baby's Vision - How Babies See
This is THE app for new parents and grandparents alike.

Ever wondered how your newborn sees the world? With this app, you can explore the world through the eyes of your little one. Select their age and see a simulated view of the world. Follow along as their vision capabilities develop and set reminders to never miss a milestone.

Take photos to keep lifelong memories of the time your little one recognized your dog or cat for the very first time.

Follow your baby's milestones, from newborn to almost a year old and see the world in a new way. Discover friends, family members and pets the way your baby sees them. Track how their vision improves over time.

Plus lots of learning materials to engage your baby.
With the provided patterns and colors, you can see your baby's reaction right away. It's so amazing to see how they respond to different colors, shapes and patterns.

NEW: You can now take photos and keep memories forever. Capture how your favorite flowers or your pet looks like to your little one.

Babies can detect light, shapes and movement, but it's all blurry and colors cannot be distinguished early on. Over time, their vision improves and they can detect nuanced colors, objects and faces.
What's New in the Latest Version 2023.8
Last updated on Aug 9, 2023
Old Versions
We've added and updated some content and fixed a few bugs.
Version History
We've added and updated some content and fixed a few bugs.
We changed how past milestones are displayed, we want you to focus on the current milestone and the ones ahead. We also did a whole bunch of spring cleaning behind the scenes.
Minor bug fixes and improvements.
We identified and fixed a crash when the app switched states from foreground to background and back.
We're adding support for Baby's Vision ID, your personal account.
We added a Sight Distance visualization, providing you with easy to understand information how far your little one can see at any given time. Additionally, some minor behind-the-scenes updates and improvements
We identified and fixed a bug where the simulation view could crash in certain configurations.
Minor improvements and improved descriptions for milestones.
We identified a few areas where dark mode wasn't displaying content properly.
Our biggest update, right before the new year: We overhauled the entire app and shifted the focus towards the individual milestones, the learning aspects and experiencing where your child is at. We still have a real-time vision simulation so you can see firsthand how your kid sees the world, but we figured, we'd like to add more educational materials as well.
We've done some under-the-hood maintenance.
Time for Spring cleaning: We hopefully identified and resolved a bunch of bugs and further improved performance and stability.
And another update: We found a few minor glitches and fixed those. Plus the Gallery View displays so much smoother than before.
We're starting off strong in 2021. 
Instead of directly exporting photos you take into the Photos App on your phone, we now have a built-in Photo Gallery.
This is only the first step for a long list of new features to come. Stay excited!
Our last update for 2020 - thank you for your amazing feedback!
We renamed the milestones slightly, to make it even easier to grasp how your baby's vision develops.
Wishing you all Happy Holidays and a restful time.
We improved the onboarding flow and fixed a bug where the age of your little one might have been miscalculated.
This is the fastest release yet. Behind the scenes, we've completely re-written the entire app.
You'll be able to simulate your baby's vision better than ever, receive notifications when your little one reaches the next milestone and you can take photos of wonderful moments.
We fixed a few smaller design issues with this update.
When you take a photo, we no longer hide it behind the scenes. You'll now get a preview image that you can tap right away. Taking photos and saving memories has never been easier!
We also fixed a bug where photos taken might have looked slightly different than what you have seen on the screen. Now all photos should look exactly the way you see them.
We squashed a few bugs behind the scenes and improved vision performance.
Just a few behind-the-scenes fixes and modifications. Oh and we renamed "Settings" to "Account". We hope you like it better as well.
A bug has been found and addressed that prevented the Milestone selection from disappearing.
Two very important things are happening right now:

It's Pride Month & Black Lives Matter! We added some additional App Icons.
We've done another round of (late) Spring cleaning and removed a whole lot of stuff that was just sitting around. You might notice a few improvements here and there.
And with this release, we're adding some ads to the app. It's a tough decision, but even developers have to buy food. We've tried to be as careful as possible with adding those, without taking away from the wonderful memories you'll be able to capture with this app. No ads will ever be displayed for Premium users, obviously.
This is exciting: You can now take photos at any time - never miss another special moment.
(Free version includes a watermark, Premium removes it)

We also added another alternative App Icon: Launched Style.
Baby's Vision - How Babies See FAQ
Check the following list to see the minimum requirements of Baby's Vision - How Babies See.
iPhone
Requires iOS 15.0 or later.
iPad
Requires iPadOS 15.0 or later.
iPod touch
Requires iOS 15.0 or later.
Baby's Vision - How Babies See supports English
Baby's Vision - How Babies See contains in-app purchases. Please check the pricing plan as below:
Baby's Vision - How Babies See Alternative