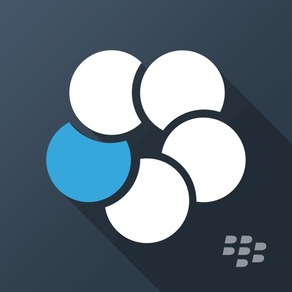 BlackBerry Work
3.12.2
for iPhone, iPad and more
BlackBerry Work Screenshots
About BlackBerry Work
*** Contact your IT administrator for any help with setting up BlackBerry Work ***

Take care of business simply, elegantly and securely with BlackBerry Work. Stay on top of your business email, schedule and join meetings, and manage your contacts with an easy to use, all-in-one app.

BlackBerry Work delivers a personalized business experience. See your colleagues' photos in your email. View online availability to chat everywhere you work - in email, a calendar event and on their contact card – a capability unique to BlackBerry. Quickly navigate among your business apps using Launcher. Switch easily between composing an email, adding a contact, or scheduling a calendar event with quick action buttons. And always know that your personal privacy is protected without intrusive geo-location capabilities.

Simple app navigation:
• Launcher: Simplify multi-tasking and app navigation with easy switching between your email, calendar, contacts, app settings and other BlackBerry apps.
• Quick actions: Work smarter with quick action buttons to compose an email, schedule a meeting or add a contact.
• Contextual file actions: Choose the right actions for your documents – edit, annotate, save, print, sign, etc. based on the other BlackBerry-secured apps installed on your device

Improve productivity:
• Email: Manage your inbox on the go! Check and respond to email, move messages to a folder, and take and attach photos.
• Calendar: Stay in touch with your colleagues, customers and partners wherever you are. Join meetings or schedule new ones. Even send a quick reply message if you are running late.
• Contacts: See all of your Outlook contacts, personal and work. Add additional information to the contact card or get the caller ID by sync'ing the contacts to the device.

Personalize your experience:
• Directory Photos: Your inbox, calendar and contacts now displays photos from your global address list so you can now enjoy more effective social interactions
• People centric collaboration: Choose the best way to reach your colleagues based on their online availability status. Initiate a call, an email, an IM or an SMS from within the app them based on their availability.

Quick notifications:
• Badges: See how many unread email you have right on your device home screen without opening the app. .
• VIP notifications: Never miss an important message. Set VIP status for key contacts to be notified via custom alerts when they send you an email.
What's New in the Latest Version 3.12.2
Last updated on May 3, 2023
Old Versions
Version History
• Users can access shared contacts folders
• BlackBerry Work supports delegate permissions for private emails
• BlackBerry Work notifications and battery saver settings can be configured from iOS focus modes
• Compatible with IOS 16
• Users can send email messages from email accounts that use aliases
• Users can add classifications and caveats to events, view classifications in events that you're invited to, and edit the classifications after they've created an event.
• Users can view external calendar events in the agenda view.
• Users can upload log files and attach diagnostic reports when sending in-app feedback
Calendar updates:
• The propose new time feature is now enabled by default. In the app configuration, the feature option has been moved from the Beta tab to the Calendar tab.
• External calendars are displayed in the agenda view.
• You can now perform searches in your calendar.
• You can set which day to display as the first day of the week in your calendar.
• You can set which days display as the workdays for the week in your calendar.
• When a meeting invitee sends a new time proposal request, the original time of the meeting is displayed in the request.
Meeting updates:
• When a meeting invitee sends a new time proposal request, they can add a comment to the request.
• When a meeting invitee sends a new time proposal request, the original time of the meeting is displayed in the request.
• Users can now use formatting such as bold and colors in meeting notes.
Signature update: Users can now use formatting such as bold and colors in the signatures.
UI update: When users start to create a new contact or meeting invite or start to create a feedback item, if they swipe down on the screen, a message asks them if they would like to keep editing the item or discard the changes.
Home screen widget: iOS 14 users can use widgets on the home screens of their devices.
• New calendar widgets that can be added to the home screen or today view.
• Users can propose a new meeting time
• BlackBerry Work no longer supports iOS 13
• ""Send a text message"" option is available after tapping a phone number
• After importing and saving a .ics meeting file, the user can see any embedded images and HTML content when opening the meeting
1. Compatibility with iOS 15
2. User can set BlackBerry Work as the user's default email client.
• iOS default calendar events can be previewed in BlackBerry Work if allowed by the respective policy
• Suggested meeting times proposed during event creation take into consideration the working hours of the attendees
• Users can quickly display the busy meter for that month by swiping down from creating event > view schedules.
• The search result items now include the source location (folder) where the item resides.
• If allowed by the respective policy, the user can now long-press hyperlinks to display the full link and related actions.
• New default end dates for a recurring meeting
1.Users can now preview their monthly availability in the calendar month view.
2.Users can copy/paste images from BlackBerry Dynamics apps to the email body on the Email Compose screen or notes in calendar events in BlackBerry Work.
3.Improvements in email search
4.Users can choose to display an alert to confirm sending emails.
5.Bug fixe
1. Improved experience when joining conferences
2. Drag and drop emails as attachments when composing an email
3. Updated search experience providing easy access to recent and suggested searches
1. View participants time-zone when creating a calendar event
2. Suggest a meeting time based on attendees availability
3. Ability to access subfolders from a shared mailbox
4. Compatibility with IOS 14
a. In-App Setting to enable light mode
b. Support Rich text editing when composing emails.
c. When composing emails, drag and drop recipients within To, Cc, Bcc fields to easily re-organize recipients.
d. Support Sending SMIME messages to the Distribution List.
e. View Certificate details of the sender in SMIME emails.
f. Attach meeting with attachments as ics file in a new email draft.
g. Support for Offline folders in Docs
h. Support viewing HTML files using PAC files.
•Ability to search for the folder in the list of email folders.
•When native browser is disabled by admin policy, the user is redirected to AppStore if BlackBerry Access browser is not installed.
•Adding participants in Calendar edit event view has been improved.
•Ability to convert email to Note in BlackBerry Notes app.
•Ability to convert email to Task with Header in BlackBerry Tasks app.
•Continuous Authentication - Spark Intelligent Security.
a)Pre-configure conference dial-in details in settings to quick insert during a meeting compose
b)See free busy for multiple participants across multiple times and days
c)Ability to focus on key users availability while scheduling meetings
d)Minimizable email drafts
e)Import iCS file into your Calendar
f)Export a Meeting as ICS and send it via email.
Dark mode support
Bug fixes
BlackBerry Work FAQ
BlackBerry Work is available in regions other than the following restricted countries:
Belarus,Bhutan,Russia,Malawi
BlackBerry Work supports English, Danish, Dutch, French, German, Italian, Japanese, Korean, Portuguese, Simplified Chinese, Spanish, Swedish
Check the following list to see the minimum requirements of BlackBerry Work.
iPhone
Requires iOS 15.0 or later.
iPad
Requires iPadOS 15.0 or later.
iPod touch
Requires iOS 15.0 or later.
BlackBerry Work Alternative