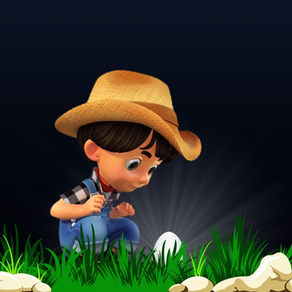 Chuckie Egg Remake
Collect all Twelve Eggs
2.6.13
for iPhone, iPad and more
Chuckie Egg Remake Screenshots
About Chuckie Egg Remake
Chuckie Egg is remake of this classic video game for iOS.

Retro Style Graphics
This remake is designed with a retro look of the 80s (Pixelated Graphics) for a classic look.

Gameplay...
As Hen-House Harry, the player must collect the twelve eggs positioned in each level, before a countdown timer reaches zero. In addition there are piles of seed which may be collected to increase points and stop the countdown timer for a while, but will otherwise be eaten by ostriches that patrol the level, causing them to pause. If the player touches a ostriches or falls through a gap in the bottom of the level, he loses a life. Each level is made of solid platforms, ladders and occasionally lift platforms that constantly move upwards but upon leaving the top of the screen will reappear at the bottom. Hitting the top of the screen while on one of these lifts, however, will also cause the player to lose a life.

Eight levels are defined and are played initially under the watch of a giant caged duck. Upon completion of all eight the levels are played again without hens, but Harry is now pursued by the freed duck who is not affected by the positioning of platforms. A second completion of all eight levels yields a third play through with both ostriches and the duck. A fourth pass introduces additional ostriches. Finally, a fifth pass has the duck and additional ostriches moving at a greater speed. If the player completes all forty levels then they advance to 'level 41' which is in fact exactly the same as level 33.

The player starts with five lives, and an extra life is awarded every next level.
What's New in the Latest Version 2.6.13
Last updated on Apr 4, 2023
Old Versions
Bug fixes and minor improvements.
Version History
Bug fixes and minor improvements.
Bug fixes and improvements.
Bug fixes and improvements.
Bug fixes!
Issue with MFi Controllers
Improvements to the handling of the games resources, fixing a few issues and minor bugs.
More overhauling of the old code base from Objective-C to Swift code.
Improvement to the handling of graphic resources.

Themes are now selected during gameplay via settings.
Minor bug fix!, a minor issue that in some rare cases caused the app to crash.
Minor bug fixes relating to how themes are handled.
X&Y Axis Virtual Controls
Axis controls now have a zone area added to avoid accidentally performing a jump if one was attempting to move, and didn't quite tap directly onto the virtual controls.
One can now select from one of the four looks.
Some minor sounds effect tweaks and updates, removed one of the sounds that was quite distracting.
Code refactoring and using the new redesigned user interface for pausing the game and settings.

Crashing issues related to the update checks solved.
No longer will performing it's own checks for any updates to this App.
Some minor bug fixes and small issues addressed.
Support for Resource Packs and Extension Packs.
It's all about control.

All control settings now stored on a single file "Settings/Controls.json" accessible via iFile on your device, allow one to tweak the control settings to their preferences.

When virtual joystick control method is disabled, X-Axis & Y-Axis control method is enabled and turning off Y-Axis is disabled until joystick control method is enabled.
When virtual joystick control method is enabled, Y-Axis option in the preferences is enabled.
iFile supported, you can now view and access the game save file for backing up, giving it to a friend or archiving as well as transferring to other iOS devices easily by using iFile on your iOS device itself instead of iTunes on a computer.

A new single file is now used for 2019 when you save your game, please note the previous game save is not supported.

A new X-Axis control has been added to go with the Y-Axis control, taping on the screen performs a jump.
The virtual joystick control can be enabled via the New "Settings Preference Panel", when virtual joystick is used the X-Axis & Y-Axis are disabled and vice verser.

New "Settings Preference Panel" with options to turn off background music or sound effects.
Leaderboard and Achievements are now accessed via Settings Preference Panel.
New single backdrop that is used for all levels and hens are now darker for better contrast with or without the backdrop.

Bug fixes...
Hi-Score now pulled and displayed from the Apple Game Center, no longer uses the local personal best score.

Minor bug fix!
Background music now stops playing after game has ended.
iPhone X Screen Supported.
The new long iPhone X screen makes playing this retro remake classic the best choice, unlike other iOS devices the iPhone X screen helps keeps the virtual controls to the side of the screen due to the longer screen.

Looks quite stunning with background turned off and screen in 1:1 aspect ratio.
Improvements made to the controls, such as the Jump Button now clearly marked as jump and will grow in size when pressed.
Left & Right control can now be made at any location on screen, no longer fixed to the bottom left of the screen.

New motion control added, when turned on you can control the left/right direction by tilting your iPad/iPhone.
Use the calibrate button found at the bottom centre of the screen when motion is enabled.
Up/Down including Jump virtual buttons will auto position them selfs to the left/right side of the screen depending witch side you tap on the screen to control the left/right direction.

Option to turn off the Backdrop. You can now play the game with a black background if you find the backdrop too distracting.
UI Screen now handles game save, game load and quit game.
New more relaxing background music.
Refinement of the controls, also includes the new option menu that is used in Rogue Planet with an added full screen option.
New option menu also allows to turn on the CRT Effect, just like in Rogue Planet.
BUG fix, load game & save game
New Y direction control has been added to the right of the screen, that allows you to climb ladders, as a result the joystick now just controls left & right movment.
Controls have been increased in size, same controls used in Starquake
Controls have now been reworked for better support of smaller devices like the iPhone.
New Joystick Options, like being able to change the size of the virtual joystick on screen and more...
Rest of game remains as is.
All NEW touch screen based user interface.
Virtual joystick added. "Default Setting"
Touch gestures controls replaced with, Left/Right Up/Down & Jump.
Save Game on Exit Game added.
iTunes file sharing supported for the Saved Game, for removing or backing up manually via iTunes.
Leaderboard now uses the Game Center, now you can compete worldwide to be #1
Chuckie Egg Remake FAQ
Check the following list to see the minimum requirements of Chuckie Egg Remake.
iPhone
Requires iOS 13.4 or later.
iPad
Requires iPadOS 13.4 or later.
iPod touch
Requires iOS 13.4 or later.
Chuckie Egg Remake supports English
Chuckie Egg Remake Alternative