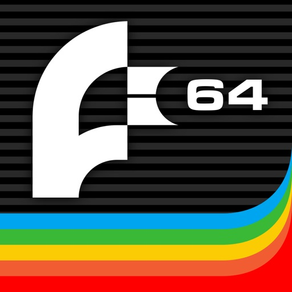 Famicam 64 8BIT Retro Camera
80s/90s Console Photo Filters
Free
Offers In-App Purchases
3.0
for iPhone, iPod touch
Famicam 64 8BIT Retro Camera Screenshots
About Famicam 64 8BIT Retro Camera
Back in Time with Famicam 64: the Ultimate Gaming Camera!

With +50 LIVE Filters and Frames inspired by the look of the most iconic Computers and video games, Famicam 64 allows you to capture the most amazing 8-bit pictures ever.

...and it's not only a camera app... It's an entire 8bit Photo Editing Suite with a set of modules to enhance your photos including:
1. DRAW: to pixel-sketch on your photo with different colors, effects, and retro brushes
2. TEXT: to add captions with awesome 8-bit and retro fonts
3. SPRITES: with +350 retro-inspired stickers
4. FRAMES: to turn your photos into​ old game covers, vintage CRT screen or even a screenshot straight from Minecraft or Pokémon!

If you grew up blowing into cartridges, or loading games from floppies (...or even through a tape recorder) and you're feeling nostalgic... or just love the fantastic pixelated aesthetics and colors of the era, this is the app you can't miss.

FEATURES:
1. More than 50 non-destructive LIVE filters, with fully adjustable custom parameters, inspired by the most iconic retro computers, consoles, and video games... From "Tennis for Two" oscilloscope experiments and text-based adventures to the last home computers and handheld consoles (and much more!).
2. Drawing module to pixel-sketch your photo with different colors, effects, retro brushes, color selector and picker.
3. +350 8-bit Sprites, divided into categories (emoticons, monsters, weapons, objects, etc.) to enhance your image and create awesome retro-gaming visual stories to share with your friends.
4. Awesome Custom Frames simulating retro game covers, magazines, floppy, cartridges or CRT screens.
5. Pixelated and nostalgic fonts and styles to caption your moments
6. iOS Native Share to instantly send your creation to any app you use (Facebook, WhatsApp, Snapchat, Tumblr and... Wherever else you like!)

Be proud of the origins of computing... Get Famicam 64 Today and re-start the 8bit revolution!

----==WHAT THEY SAY ABOUT US==----
"...Instagram gave us the notion that filters are cool, but Zuck's photo app nowhere near as cool as the Famicam64 app. ... Famicam 64 allows you to easily capture great looking 8-bit pictures."
-8bit Central

"The Famicam64 ultimately is a fun alternative to Instagram for the retro gamer, wanting to send pictures which reflect the era of gaming they love, with lots of built in winks and nods to classic gaming, and plenty of options which allow you to give all of your snaps a fun, geeky overlay.
If you're a gamer, what are you waiting for?"
- Flickering Myth

"The Ultimate 8-bit Retro Camera...Forget about looking for the latest and greatest camera app for your smartphone, as you can now have a cool 8-bit retro camera suite with real-time effects, pixel art editor, ​and sprites!"
-AUS RetroGamer

---------------------------
Famicam Pixel Guy by Kostic Milos
"Pixel adventures". Music by Marcelo Fernandez (http://www.marcelofernandezmusic.com). Licensed under Creative Commons Attribution 4.0 International (http://creativecommons.org/licenses/by/4.0/).
What's New in the Latest Version 3.0
Last updated on Mar 8, 2019
Old Versions
Finally ported to new iPhones... now ready for more cool updates!
Version History
Finally ported to new iPhones... now ready for more cool updates!
Say Hello to Famicam 64 2.0!
We've completely revamped the User Interface to create a faster and more cohesive experience, added new filters, Poke stickers and much more!

Camera View:
- ZOOM: Now you can zoom pinching on the screen
- FILTER SELECTION: Tap on the Magic Wand Icon and tinker with all the filters and settings! (you can also swipe left and right to swich FX!)
- DOUBLE TAP to switch Camera

STICKERS & FRAMES:
- New Poke-style stickers & Frame for PokeGo Adventures!

And much more!

Please, if you enjoy Famicam64 please share your pics with your friends and write a review on the AppStore!
For any info or suggestion feel free to contact us!

Keep the 8bit revolution going!
> 10 PRINT "NEW UPDATE 1.3 ARRIVED!!!!!"
> 20 GOTO 10
> RUN

We've been working hard in our basement to add new rad stuff to Famicam64!

Here's what's the new in the 1.3 ROM upgrade:
===NEW COOL FILTERS===
- VMU Dreamcast Inspired LCD filter
- 2 New Filters inspired by The Bitmap Brothers famous palettes: Xenon 2 and Speedball
- Psygnosis Filter
- 2 Blocky, Minecraft inspired filters
- Refined DOS VGA/EGA/CGA
- New Monsters filter that super enhance images details (much better than CSI :P)

===NEW COOL FRAMES===
- VMU Dreamcast Frame
- Fantastic Tape Cover Frame (if you grew up playing C64 or Spectrum you'll certainly remember loading games from tapes)
- Horror Console Game Cover

Besides that, we have new stickers, new fonts and various ​enhancements everywhere!

****PLEASE EVERYONE****
If you enjoy Famicam64 remember to write a small, nice review in the AppStore... it really helps small developers!
***CHANGELOG***
So many changes in this version of Famicam64...
We just upgraded the internal memory of your Famicam64 device and installed a new rad Fami-ROM!
Here's a brief list of the new features:
- New awesome filters (various dithering, VirtualBoy, Analog lines, etc)
- Improved emulation of certain screen filters
- Randomiser Dice icon to automatically choose a random Filter & Frame
- New Stickers
- New Cool Frames (Minecraft, RetroMiami, 1984...)
- New Fonts, Colors and finally alignment!
- Share your pic in Portrait or Landscape (beta)

If you like Famicam64 and want to see new cool updates please leave a nice review in the AppStore!
Thank you... and keep the 8bit revolution going!
===UPDATE CHANGE LOG===
Hello everyone! We've some cool new stuff already coming for Famicam 64:
- New Gamma slider in the Filter Panel in the Editor
- Font align for captions
- New Fonts (scumm)
- New Cool Filters and adjustment to old filters
- New Borders (Scumm adventure)
- New stickers
- Bug Fixes

If you like Famicam64 and want to see new, super-cool updates coming please, leave a review! THANK YOU!!!

=======================
Famicam 64 8BIT Retro Camera FAQ
Check the following list to see the minimum requirements of Famicam 64 8BIT Retro Camera.
iPhone
Requires iOS 8.0 or later.
iPod touch
Requires iOS 8.0 or later.
Famicam 64 8BIT Retro Camera supports English
Famicam 64 8BIT Retro Camera contains in-app purchases. Please check the pricing plan as below:
Related Videos
Latest introduction video of Famicam 64 8BIT Retro Camera on iPhone
Famicam 64 8BIT Retro Camera Alternative