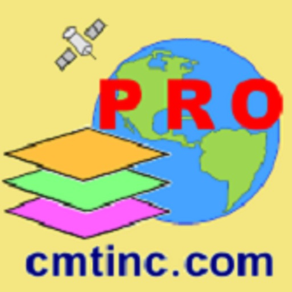 iCMTGIS PRO
GPS Data Collection & Mapping
1.2.2
for iPhone, iPad and more
About iCMTGIS PRO
iCMTGIS PRO is a professional GPS/GIS mapping, data collection and stakeout app for use on the iPad and iPhone devices. It can be used to effectively collect data and increase productivity for utilities, wildlife, natural resources, land management, surveying, soil study, archaeology, drone control points and other land-based or air-borne GPS/GIS applications. LLA, UTM, State Plane and local coordinate systems supported. It also provides the ability to create a local NEZ coordinate system to use with real-world designs on paper.
Requires iOS 9 or newer version of iOS.
iCMTGIS PRO will work with any iOS compatible GPS devices. In addition, it is able to display the GPS status for a few specific external GPS receivers and record accuracy and quality information for the recorded position - e.g. EOS Arrow Gold, Geneq SXBlue Platinum, Juniper Systems Geod. When used with these GPS receivers, you will be able to set PDOP mask and RMS limit for quality assurance. iCMTGIS PRO can make use of the NGS Geoid12a binary files. It can be a valuable RTK data collection and stakeout tool when used with a compatible GPS receiver that outputs the needed accuracy information.

iCMTGIS PRO will let you define a custom Feature-Attribute database to facilitate data collection. It will let you log GPS Points, Lines and Area Features and tag them with predefined or manually added descriptions. It will let you log multiple GPS fixes and automatically calculate the average position. It will let you record nested Points while recording a Line or Area Feature. It will also let you digitize Features on top of a background map or create traverse points by entering angles and distances. You may load a GeoTiff image to use as a static or moving background map. You can record your track while performing other tasks using this app. Enter deed calls to create a deed plot. View distances and areas on the spot. Create buffers. Create a grid over an area. Crate contour lines based on points with (x,y,z) coordinates. Attach photos. Easily import/export Shapefiles, Excel files, DXF files, KML files and text files, send/receive files via ftp or email, and store files in the Cloud. Generate and view PDF files. The app comes with a detailed built-in help document. Free relevant GPS/GIS training videos are provided on the Internet.

iCMTGIS PRO provides Point Stakeout as well as Line Stakeout functionality.

iCMTGIS PRO is a one-time purchase without any annual subscription fees. It will run on iPad devices as well as iPhone devices.

Please note: Location data depends on the GPS receiver used. Continued use of GPS running in the background can dramatically decrease battery life. iCMTGIS PRO will let you easily toggle the GPS on or off.
What's New in the Latest Version 1.2.2
Last updated on Mar 24, 2023
Old Versions
Fixed compatibility issues caused by the screen size of the various newer iOS device models.
Version History
Fixed compatibility issues caused by the screen size of the various newer iOS device models.
Addressed compatibility issues for the newer iOS devices with various display sizes.
Fix 9th generation device compatibility issue
1. Enables the app to work properly with the 9th generation iPad devices.

2. Includes an update of the Geode device protocol and provides the ability to select the new Geode GNS3 in the "Enable the External GPS" mode.

Fixed issue related to iOS versions newer than 15.0 - the app crashing after recording a Line or Area Feature.
Permit DXF attached to an email to be opened by the app.
Display the contents of Feature List used by a Job when iCloud storage is selected for storing Job and Feature List data.
Change the default settings in the "Enable the external GPS" mode.
For importing from an Excel file, added the ability to detect decimal numbers used as Feature IDs.
Fixed bug relating to symbol used for GPS data collection.
Added RMS to the Built-in Attribute List.
1. Added GPS Data Quality as a built-in Attribute.
2. Fixed the problem of not automatically recording the default Value for the first Feature in a Topic.
3. Fixed bugs related to adding H_2DRMS as a Feature Topic Attribute.
Fixed document configuration issue.
1. Fixed missing fields on Datum page under Setup GPS.
2. Promptly display the Attribute page in the iPhone version.
3. Fixed inactive links in the Help document.
Moved the icons at the top so they won't run into the controls on the iPhone X, iPhone R, iPhone XS, and iPhone XS Max devices.
Enhanced the text file import and export. Whereas text file import was limited to importing text files ending in .txt, now the user may select between .txt and .csv. For text file export, we've added a window to let the user select the Attributes to be exported instead of exporting all of the Attributes for the Topic.
Fixed bugs involving downloading files from iCloud.
1. Added RMS value to Built-in Attribute List so that it can be exported.

2. Fixed the bug of not creating the .prj file when exporting to Shapefiles from the NAD83(2011) coordinate system.
Fixed problem displaying geoid separation file used
Added display of the name of the geoid file used in computing MSL.
Added WGS84(1674)/ITRF08 and NAD83(2011) datum selections.
Fixed issue with importing previously exported data in Excel file format.
Fixed bug in Position Info display.
Fixed datum transformation bug
Fix bug with antenna height under GPS Setup
Display elevations with 3 decimal digits
Additional choices of External GPS device
Fixed problem of interfacing with EOS Arrow GPS receiver.
iCMTGIS PRO FAQ
iCMTGIS PRO is available in regions other than the following restricted countries:
China,Japan
iCMTGIS PRO supports English
Check the following list to see the minimum requirements of iCMTGIS PRO.
iPhone
Requires iOS 9.0 or later.
iPad
Requires iPadOS 9.0 or later.
iPod touch
Requires iOS 9.0 or later.
Related Videos
Latest introduction video of iCMTGIS PRO on iPhone