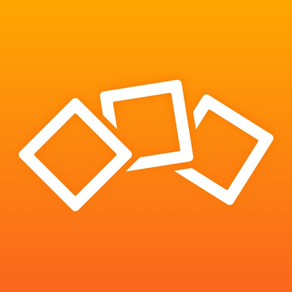 iFastViewer
3.3.6
for iPhone, iPad and more
About iFastViewer
The iFastViewer app lets you attend FastViewer sessions from the comfort of your iPhone, iPod touch or iPad. Even if you're on the go, you no longer have to miss out on presentations, web conferences, online meetings or training sessions.

Features
······································································

Desktop:
See your meeting partner's desktop. You can view it in fit-to-screen mode or zoom in and use multi-touch functions, like pinching your fingers together or apart, to smoothly scale the display size.
When remote control is enabled, the mouse cursers movement is now relative to your fingers movement.

Video:
Tap on the camera icon to see video images of all participants in a meeting with a webcam. If your device has a camera, you can even transmit your own video image.

Voice-Communication:
Navigate on the iFastViewer app to the "audio" tab: Here you can dynamically activate and deactivate your speaker or microphone to participate in the sessions voice communication.

Chat:
The chat function also lets you join in discussions even when you're not at your desktop.

Users:
The list of participants lists all of a session's attendees. You can also see who's sharing their desktops.
As moderator you can manage the participants and control who is sharing and in remote control as well.


What is FastViewer?
······································································

FastViewer lets you view and participate in presentations, meetings and training courses online – all in a secure and easy-to-use environment.
What's New in the Latest Version 3.3.6
Last updated on Jan 27, 2023
Old Versions
App Settings: HQ Audio/Video is now active by default
Missing Translations have been fixed ("RPD enabled MESSAGEBOX", "Error Reconnecting", etc.)
Version History
App Settings: HQ Audio/Video is now active by default
Missing Translations have been fixed ("RPD enabled MESSAGEBOX", "Error Reconnecting", etc.)
It is now possible to add multiple servers in the app settings field, for situations when the conninfo.xml file of a self hosted server is temporarily not available. These have to be seperated by a semicolon, for example: server1.com;server2.com;server3.com
New Feature: HQ Audio/Video (Can be activated / deactivated in the App Settings.)

Bugfix: Fixed a potential timeout error when iOS was screensharing.
New Feature: HQ Audio/Video. This can be activated in the app settings. (Requirements: v67 Windows & v67 OSX Modules, updated Server Solution, Webclient 4.1.18.)
"Enable STS Single Sign On" has been added to the app settings.Additional improvements and bugfixes.

Remote Management feature has been added with 3.3.0: iOS can now access Windows and OSX devices remotely.
Remote Management Bugfixes with 3.3.1.
Remote Management feature has been added: iOS can now access Windows and OSX devices remotely. Additional bugfixes and improvements.
Adaptations to run with iOS 14, multiple bugfixes and improvements.
Bugfixes for session stability and disconnects.Usability improvements, and interface bugfixes.
Improvements & Bugfixes:
An issue with Screensharing in iOS 13 has been resolved. (Please use iOS 13.1 or newer.)
A potential text color issue has been resolved, if Dark Mode was active.
An info-text has been updated, that was not translated into German.
Additional small improvements and bugfixes.
Enhancement: iOS Screensharing usability is improved for iOS 12 (iOS screensharing can be launched from within the app, without using the Control Center)
Info: iOS 9 will no longer be supported with iFastviewer Version 3.2.4
Bugfix: In some situations the mouse courser could react slow when remote controlling another device
Improvement: Better compatibility when loading the Conninfo.xml
More additional bugfixes, stability and usability improvements
New Feature: iOS Screen Sharing
- iFastviewer can now share its screen within FastViewer Sessions
- This Feature is supported with iOS version 11 and later, as well as FastViewer Server Version 3.1.6628.24653 and later. (If the server version in use is not up to date, an info message will be displayed)
- Remote control is not supported, just viewing. (Usability: The remote control function for this scenario will be also disabled with FastViewer modules: WIN & Mac v3.2.0055)
- Info: The iOS Screen has to be shared again, if screenlock activated.
- Info: New tutorials are available for iFastViewer screensharing (setup & how to use). Those will be displayed if iFastViewer is selected for screensharing by a master.

How to setup:
Go to Settings > Control Center > Customize Controls > Include "Screen Recording"

How to use:
Start iFastViewer App, if the iFastViewer App is selected for screensharing: Swipe to open control center and longpress / 3d touch the record button, select iFastViewer for screen sharing.

Additional Bugfixes and Improvements:
If a session number is wrong after multiple attempts, an information message will be displayed that the user has been temporarily locked
- If complete tabs are deactivated (for example audio in a standard support session), the audio tab will also be inaccessible inside the app
- Launch images and app icons have been updated
- Additional smaller improvements and bugfixes
- Fixed Video availability for iPhone X
- Fixed a delay that could occur when loading the Video Tab with iOS 11
- Improvement: Hyperlinks that are sent via chat are now clickable
- Improvement: Optimized the initialisation process when switching monitors, etc.
- Improvement: Handling of information dialogs was improved
Bugfix: XML-RPC Invitation Links now also work when Server Recording is enabled on your own Server Solution.
For Windows Modules & Mac Modules 3.20.0054. More information on portal.fastviewer.com > Downloads > Version History.
Improvement: Interface behavior has been improved in some identified instances when devices were performing slow (This is relevant for older devices or slow connections).

Bugfix: An Issue has been resolved that lead to Instability when huge numbers of chat massages have been recieved in a short amount of time.

Bugfix: Editing a participant and switching back to desktop-view, did not show the full desktop right away.

Setting an iOS Participant "passive": Participants can listen but are not allowed to speak.

Bluetooth Compatibility has been improved.

Conferenceplanner: Long titles are now truncated if they cant be displayed fully in potrait Mode (relevant on smaller displays).

Bugfix for the Video Tab: In some cases the last video frame was still displayed after the iOS Client stopped the session.

Bugfix for the Video Tab: The Video Preview could be 90 degrees rotated, if opened for the first time.

Improvement: The default view in the conference planner has been adjusted to show all of todays conferences, even if the starting hour was already in the past (today).

Usability for conference planner: Usernames will now always be displayed.

Bugfix: When an iOS moderator is disconnecting an iOS user, the "session closed" dialog will now be displayed correctly right away.

Usability has been improved when selecting a presenter or remote controller (primarily for small displays).

The usability has been improved for editing participants (buttons and scrolling).

A new info text has been added, if remote controlling a Windows client when higher privileges are required.

Improvement: Wording in the participant list has been improved.

Bugfix: Back button is now properly translated in german.

Improvement: The design has been improved for the window "The planned session has not been started yet".

Additional minor improvements and bugfixes.
iFastviewer 3.1 is supported with iOS 9.

Improvements:
- MDM Compatibility has been added
- Small Usability Improvements for Usersettings
- Autoconnect when connecting via Invitationlinks has been added

Bugfixes:
- XML-RPC "participant already joined" Timingproblem has been fixed with slower connections
- Various minor Bugfixes
iFastviewer 3.0 is compatible with iOS 8 and newer.

Performance:
- The App was redesigned from ground up to perform natively faster
- Remote control and viewing is now much faster and more responsive
- Improved video performance

User Interface:
- Overall user interface redesign
- Improved usability experience

Features & Improvements:
- A tutorial has been added to welcome new users
- When remote control is enabled the mouse curser is now controlled relative. (Remote viewing is absolute)
- The invitation system has been completely redesigned to work with all specific scenarios
- Multiple info texts and error messages have been added
- Redesigned conference planner
- Audio: Opus-Codec is now in use. You can enable opus for your windows and mac modules via https://portal.fastviewer.com > login > settings > functions: support / presentation / conference: "Use opus-codec for audio-transmission"
- Multiple Bug fixes for audio interface and functionality
- Multiple Bug fixes for video interface and functionality

Overall Bug Fixes:
- Multiple bug fixes and improvements concerning screen sharing, remote control and user management
- Multiple stability improvements (Also for sessions with a higher number of participants)
- Crash fixes when remote controlling and switching monitors
- Crash fixes in video chats while switching from portrait to landscape or changing cameras

For customers with their own server solutions:
Go to your app settings, use for "Alternative Server" the URL or Serverlist-URL for your environment, for example: https://myserver.mycompany.com
Improved compatibility with iOS 8
Usernames and Passwords can contain special characters from now on.
- Bugfixes
- Notification-Support
- Create new or start existing conferences
- Create ad-hoc sessions
- Manage participants inside of a session
Corrected behaviour for background mode
Fixed iOS 5 network issues
iFastViewer FAQ
Check the following list to see the minimum requirements of iFastViewer.
iPhone
Requires iOS 13.0 or later.
iPad
Requires iPadOS 13.0 or later.
iPod touch
Requires iOS 13.0 or later.
iFastViewer supports English, German