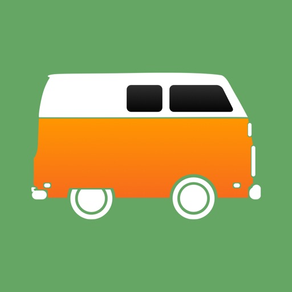 iTour.radiohead
Free
Offers In-App Purchases
8.0.3
for iPhone, iPod touch
iTour.radiohead Screenshots
About iTour.radiohead
The must-have app for Radiohead fans on the road, or at home!

This application helps you find all the information that you need for the current Radiohead tour. Access directions, setlists, seating charts, showtimes, tickets, local weather and videos for every show in the run.

> Integrated with Maps, Uber, Lyft and Waze for additional ways to help you get to each venue
> Wikipedia information about the band and every venue of the tour
> Fly from show to show via the interactive aerial tour map
> Plan your shows via the calendar view
> Find tickets with CashorTrade.org
> Review the setlists from setlist.fm
> View where you're sitting with venue seating charts
> Watch videos on YouTube

NEW! - Settings screen to configure app settings (appearance, units, and map style)
NEW! - Dark / Light mode support. Pick one and stick with it, or sync with your iOS Appearance setting
NEW! - Event list shows grouped by tour
NEW! - Add event information to your iOS calendar
NEW! - Pick from 19 different map styles
NEW! - Push notification reminders on the day of an event
IMPROVED! - Event calendar display
IMPROVED! - Weather information display
IMPROVED! - Interactive aerial tour map
IMPROVED! - Browsing experience
IMPROVED! - Screens are more accessible for every user
IMPROVED! - Directions to venue options
UPDATED! - Loading screen and app icons

** Review **
"Perfect for both on-the-fly adventure and advance tour planning, iTour is the touring companion that has been begging to be made since Phish and iPhones collided." - Mr. Miner's Phish Thoughts in a review of iTour.phish

Works on devices running iOS11.0+, optimized for devices running iOS14
What's New in the Latest Version 8.0.3
Last updated on Dec 18, 2021
Old Versions
Finding myself with a bunch of free time over the past year or so, I needed a project to work on. So I decided to re-write the app from scratch. This new version of iTour.radiohead provides an updated interface, backend performance improvements and tons of new features!

NEW! - Settings screen to configure app settings (appearance, units, and map style)
NEW! - Dark / Light mode support. Pick one and stick with it, or sync with your iOS Appearance setting
NEW! - Event list shows grouped by tour
NEW! - Add event information to your iOS calendar
NEW! - Pick from 19 different map styles
NEW! - Push notification reminders on the day of an event
IMPROVED! - Event calendar display
IMPROVED! - Weather information display
IMPROVED! - Interactive aerial tour map
IMPROVED! - Browsing experience
IMPROVED! - Screens are more accessible
ENHANCED! - Directions to venue options
UPDATED! - Loading screen and app icons
FIND! - Various easter egg shortcuts to help you get to the information you want more quickly
SQUISHED! - Some bugs

v8.0.3 - Performance improvements, fixes some issues with the Calendar and a minor issue for devices using iOS 15
Version History
Finding myself with a bunch of free time over the past year or so, I needed a project to work on. So I decided to re-write the app from scratch. This new version of iTour.radiohead provides an updated interface, backend performance improvements and tons of new features!

NEW! - Settings screen to configure app settings (appearance, units, and map style)
NEW! - Dark / Light mode support. Pick one and stick with it, or sync with your iOS Appearance setting
NEW! - Event list shows grouped by tour
NEW! - Add event information to your iOS calendar
NEW! - Pick from 19 different map styles
NEW! - Push notification reminders on the day of an event
IMPROVED! - Event calendar display
IMPROVED! - Weather information display
IMPROVED! - Interactive aerial tour map
IMPROVED! - Browsing experience
IMPROVED! - Screens are more accessible
ENHANCED! - Directions to venue options
UPDATED! - Loading screen and app icons
FIND! - Various easter egg shortcuts to help you get to the information you want more quickly
SQUISHED! - Some bugs

v8.0.3 - Performance improvements, fixes some issues with the Calendar and a minor issue for devices using iOS 15
Finding myself with a bunch of free time over the past year or so, I needed a project to work on. So I decided to re-write the app from scratch. This new version of iTour.radiohead presents an updated interface, backend performance improvements and tons of new features!

NEW! - Settings screen to configure app settings (appearance, units, and map style)
NEW! - Dark / Light mode support. Pick one and stick with it, or sync with your iOS Appearance setting
NEW! - Event list shows grouped by tour
NEW! - Add event information to your iOS calendar
NEW! - Pick from 19 different map styles
NEW! - Push notification reminders on the day of an event
IMPROVED! - Event calendar display
IMPROVED! - Weather information display
IMPROVED! - Interactive aerial tour map
IMPROVED! - Browsing experience
IMPROVED! - Screens are more accessible
IMPROVED! - Directions to venue options
UPDATED! - Loading screen and app icons
FIND! - Various easter egg shortcuts to help you get to the information you want more quickly
SQUISHED! - Some bugs
NEW! - Now integrated with Uber, Lyft and Waze for additional ways to help you get to the venue
NEW! - Wikipedia information about the band and every venue of the tour
NEW! - Refresh the setlist without leaving the screen
NEW! - Easily contact the developer to provide feedback and get support
OPTIMIZED - For even better performance
SQUISHED - A couple of bugs
NEW! - Fly from show to show via the interactive aerial tour map
NEW! - Plan your shows via the new calendar view
IMPROVED - Zoom, pan, scroll and tilt the map on the show detail screen
IMPROVED - Navigation, layout and text readability
REDESIGNED - Show detail screens now includes pictures of the venues
REDUCED - Network calls
SQUISHED - Various bugs, including videos and location services
This new version is completely re-written from scratch, but still delivers all of the same features you have come to love from the previous versions.

What's New:
> Displays the venue on a map on the detail screen
> Better Maps integration
> View the weather at the venue
> Shows the distance you are from the venue
> Countdowns the days until the shows
> Supports international venues
Thank you for using iTour.rhead! In the future, release notes like these will be displayed the first time you open the app in case you have turned on automatic app updates in iOS7.

New in this version:
> ...still waiting for new US dates
> Pull-to-refresh to update show data
> Push notifications will let you know when show data updates are available
> Swipe left on the show info view to get a birds-eye view of the venue
> Swipe right to return to the previous view
> New browser navigation controls (back, forward, refresh, stop, view in browser) in the web views
> New Tour Tool: Integration with Airbnb to provide more lodging options near the venue
> New Find Near Venue search: Vegetarian options near the venue
> Refreshed the app icon
> Under-the-hood performance improvements

Works on devices running iOS6+, optimized for devices running iOS7.

If you like the app, please consider leaving a review. Visit http://theitourapp.com for versions for your other favorite bands!

Send any comments, suggestions and other feedback to support@theitourapp.com.
Updated with Summer 2012 dates.
iTour.radiohead FAQ
Check the following list to see the minimum requirements of iTour.radiohead.
iPhone
Requires iOS 11.0 or later.
iPod touch
Requires iOS 11.0 or later.
iTour.radiohead supports English
iTour.radiohead contains in-app purchases. Please check the pricing plan as below:
Unlock Premium Features
$2.99
WTF it's just a buck
$0.99
iTour.radiohead Alternative