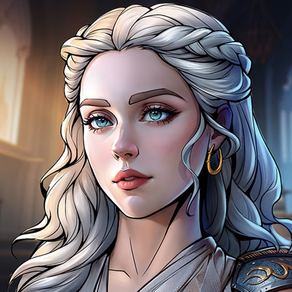 King's Throne
Enjoy the Royal Delights
Free
Offers In-App Purchases
1.3.226
for iPhone, iPad and more
King's Throne Screenshots
About King's Throne
Rule your kingdom, rule your romance.

King's Throne is an empire simulation MMORPG where you rule a kingdom and experience the medieval royal life: exciting adventures, epic wars, irresistible romance, kingdom management and more than you could imagine! Play for free now, and immerse yourself in playing as a medieval king.

Key Features:
- Rule the Kingdom – Make good use of your resources to strengthen your kingdom. Always ready for expansion.
- Recruit Knights – Assemble legendary heroes along the journey and empower them to fight for you.
- Raise a Dynasty – Nurture your children, arrange alliances through marriage, and eventually expand your influence.
- Undertake the Expedition – Crush the enemies on your way and foil their plots.
- Round Table – Unite other lords as an alliance and fight against other competitors together.
- Conquer the Server – Join PVP tournaments, unleash your strategy and prove your power.

Have you ever imagined being a King in the Middle Ages?
Would you like to romance the legendary ladies and establish your dynasty?
Download now, and enjoy the life of a King in medieval times.

Follow and like us on Facebook!
Facebook: https://www.facebook.com/gameKingsThrone
If you have any questions, feedback, or suggestions, please feel free to contact us!
E-mail: support@goatgames.com

Terms of Service:
https://www.goatgames.com/terms.html
What's New in the Latest Version 1.3.226
Last updated on Nov 27, 2023
Old Versions
1. New content:
(1) New Hero and Skin: Oberon (Vale of Fae)
(2) New Maiden and Skin: Hermia (Vale of Fae)
(3) New Avatar Frame: Crop King Avatar Frame
(4) New Chat Frame: Crop King Chat Box

2. Optimization:
(1) Fixed the problem that some dark-colored bubble text is not clear
(2) Optimized lagging issues in some events
(3) Some bug fixes and interface optimization
Version History
1. New content:
(1) New Hero and Skin: Oberon (Vale of Fae)
(2) New Maiden and Skin: Hermia (Vale of Fae)
(3) New Avatar Frame: Crop King Avatar Frame
(4) New Chat Frame: Crop King Chat Box

2. Optimization:
(1) Fixed the problem that some dark-colored bubble text is not clear
(2) Optimized lagging issues in some events
(3) Some bug fixes and interface optimization
1. New content:
(1) New Hero and Skin: Ahriman (Bloodlust)
(2) New Maiden and Skin: Jeh & Jahi (Bloodlust)
(3) New Hero Skin: Arthur (Apokalypsis)
(4) New Castle Skin: Blazing Fortress
(5) New Avatar Frame: Infernal Portal Frame
(6) New Chat Frame: Infernal Flame Chat Box
(7) New Event: Halloween Havoc

2. Optimization:
(1) Increased Hero Tourney Skill and Bond Skill caps
(2) Some bug fixes and interface optimization
1. New content:
(1) New Hero Maiden Skin: Diaochan (Dragon Duelist)
(2) New Maiden Skin: Diaochan (Dragon Dancer)

2. Optimization:
(1) Some bug fixes and interface optimization
1. New content:
(1) New Hero Skin: Dullahan (Bonecrusher)
(2) New Hero Skin: El Cid (Crimson Crusade El Cid)
(3) New Hero Skin: Thaddeus (Crimson Crusade Thaddeus)

2. Optimization:
(1) Some bug fixes and interface optimization
1. New content:
(1) New Heroic Maiden Skin:Gordafarid (Auspiced Archeress)
(2) New Maiden Skin: Gordafarid (Auspiced Tempest)
(3) New Castle Skin: Atlantis

2. Optimization:
(1)Mail: You can star emails that you don't want to pick up or delete with one click.
(2)Some bug fixes and interface optimization
1. New content:
(1)New Event: Fisherman's Fortune

2. Optimization:
(1))Some bug fixes and interface optimization
1. New content:
(1) New Hero Skin: Duncan (Dark Revenant)
(2) New Avatar Frame: Arcane Treasure Frame
(3) New Chat Frame: Arcane Treasure Chatbox

2. Optimization:
(1)Hildegard: Optimised her face in high intimacy state when visiting
(2)King's Gift: When you press and hold the chest in the chat interface, it can be dragged.
(3)Some bug fixes and interface optimization
1. New content:
(1)New Hero Skin: Siegfried (Apokalypsis)

2. Optimization:
(1)Alchemy: You can collect task rewards with one click
(2)Some bug fixes and interface optimization
1. New content:
(1)New Heroic Maiden Skin: Asenath (Scythe of Redemption)
(2)New Maiden Skin: Asenath (Peacock of Redemption)

2. Optimization:
(1)Loyal Paws Club: Added auto-renewal feature
(2)Some bug fixes and interface optimization
1. New content:
(1)New Hero Skin: Götz von Berlichingen (Mercenary Master)
(2)New Beast: Nemean Lion

2. Optimization:
(1)Cursed Animals: New night mode and auto-combine item labradorite added
(2)Some bug fixes and interface optimization
1. New content:
(1)New Heroic Maiden Skin: Aurelia (Warrior Princess)
(2)New Maiden Skin: Aurelia (Fearless Princess)

2. Optimization:
(1)Some bug fixes and interface optimization
1. New content:
(1)New Hero Skin: Hans (Crown of Madness)

2. Optimization:
(1)Unmarried Children: Designed a new interface UI
(2)Some bug fixes and interface optimization
1. New content:
(1)New Hero Skin: Hans (Crown of Madness)

2. Optimization:
(1)Unmarried Children: Designed a new interface UI
(2)Some bug fixes and interface optimization
1. New content:
(1)New Heroic Maiden Skin: Khawalah (Silk Saboteur)
(2)New Maiden Skin: Khawalah (Silk Seductress)
(3)New Hero Skin: Hans (Crown of Madness)
(4)New Avatar Frame: Diamond Ore Frame
(5)New Chat Box: Diamond Ore Chat Box

2. Optimization:
(1)Some bug fixes and interface optimization
1. New content:
(1)New Hero and Skin: Atlas (Crimson Tide)
(2)New Maiden and Skin: Calypso (Crimson Tide)
(3)New Hero Skin I: Tuck (Crimson Crusade Tuck)
(4)New Hero Skin II: Scarlett (Crimson Crusade Scarlett)
(5)New Play: Wandering Beasts(Gradually opening up)

2. Optimization:
(1)Some bug fixes and interface optimization
1. New content:
(1)New Skin: Valentin (Adamant Armor)

2. Optimization:
(1)Cursed Animals: Added the function that no alliance can redeem points normally when there is a reservation period and claim mission rewards with one click
(2)Some bug fixes and interface optimization
1. New content:
Note: The City Skin is coming !

2. Optimization:
(1)Alliance Domination: Added the ability to redeem points in bulk and collect task rewards with one click
(2)Some bug fixes and interface optimization
1. New content:
-- The annual anniversary has arrived, so let's celebrate! --
(1)New Event: Chest of Arcane Treasures
(2)New Hero Skin: Ragnar Lothbrok (Ragnarök)
(3)New Maiden Skin: Matilda (Dazzling Phoenix)
(4)New Castle Skin: Camelot

2. Optimization:
(1)Survival: Fangs vs Fur: Added the feature to set up station guidelines for alliance leader
(2)Some bug fixes and interface optimizatio
--The annual anniversary is coming, let's look forward to it together! --
1. New content:
(1)New Event I: Contest of Chiron
(2)New Event II: The Resurgence
(3)New Heroic Maiden: Athena
(4)New Avatar Frame: 4th Anniversary Frame
(5)New Chat Box: 4th Anniversary Chat Box
(6)New Skin I: Crimson Crusade Magnus
(7)New Skin II: Crimson Crusade Cyrano
(8)New Skin III: Crimson Crusade Constable Bertrand
(9)New Skin IV: Crimson Crusade Alain le Roux
1. New content:
--The annual anniversary is coming, let's look forward to it together! --

2. Optimization:
(1) Some bug fixes and optimization of interface display issues
1. New content:
--The annual anniversary is coming, let's look forward to it together! --

2. Optimization:
(1) Cursed Animals: The number of levels has been increased from 300 to 500, and some levels require the consumption of props.
(2) Some bug fixes and optimization of interface display issues
1. New content:
(1) New Heroic Maiden Skin: Matilda (Valiant Phoenix)

2. Optimization:
(1) Shop: one-click purchase optimization (can be further ticked)
(2) Added personal ID and player name copyable function
(3) Some bug fixes and optimization of interface display issues
1. New content:
(1)New Event: Virtues of Life

2. Optimization:
(1)Exile: Optimized the problem that the function does not take effect in some cases
(2)Some bug fixes and interface optimization
1. New content:
(1)New Hero and Skin: Oba Ewuare (Agbavboko)
(2)New Maiden and Skin: Idia (Agbavboko)
(3)New Skin: Blake Bohm (Grizzly Hunter)

2. Optimization:
(1)Alliance Hall Hunting Grounds: Added attribute classification
(2)Some bug fixes and interface optimization
1. Optimization:
(1) Naval Warfare + Gangs of the Shires: to prevent some players from continuously attacking the same player, the player can only knock off the other player a fixed value of blood in the same round (According to the level)
(2) A Wave of Love + Pursuit of Wild Desires: added the display of event items donation details within the alliance
(3) Exile: optimized the exact jump of heroes
(4) Some text fixes and interface optimization
King's Throne FAQ
King's Throne is available in regions other than the following restricted countries:
Lebanon,Afghanistan,Sierra Leone,Bhutan,Botswana,Gambia,Seychelles,Palau,Tanzania,Nigeria,Uganda,Bahrain,Papua New Guinea,Oman,Algeria,Mongolia,Cape Verde,Mali,Mozambique,Micronesia,United Arab Emirates,Malawi,Niger,Qatar,Brunei Darussalam,Namibia,Benin,Jordan,Kuwait,Liberia,Pakistan,China,Yemen,Mauritius,Nepal,Senegal,Saudi Arabia,Burkina Faso,Japan,Swaziland,Angola,Madagascar,Tunisia,Sao Tome & Principe,Mauritania,Chad,Guinea-bissau
King's Throne supports English, Dutch, French, German, Italian, Korean, Polish, Portuguese, Russian, Spanish, Turkish
King's Throne contains in-app purchases. Please check the pricing plan as below:
Supreme Monthly Card
$13.99
Check the following list to see the minimum requirements of King's Throne.
iPhone
Requires iOS 12.0 or later.
iPad
Requires iPadOS 12.0 or later.
iPod touch
Requires iOS 12.0 or later.
King's Throne Alternative