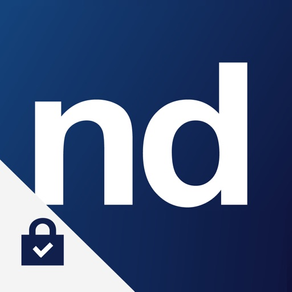 NetDocuments for EMM
2.6.4
for iPhone, iPad and more
NetDocuments for EMM Screenshots
About NetDocuments for EMM
NetDocuments is a cloud content management service for businesses of all sizes to securely create, store, manage and share their document work anywhere, anytime. If you are a NetDocuments customer, simply install this iPad or iPhone app for free, and you will have access to all your documents while you are on the go. NetDocuments for EMM enables iPhone and iPad users to securely create, edit, and collaborate on content anywhere, while giving IT the administrative control to enforce mobile security policies through any EMM platform that supports the AppConfig standards.

NetDocuments was designed for mobility. The NetDocuments app takes advantage of the local operating system and storage capabilities of the iPad or iPhone. With this app you can:
• Bring your documents with you when you are on the go.
• Find any documents using full-text search or by navigating through folders, filters and workspaces.
• Email copies of documents or documentlinks to others.
• Create subfolders.
• Upload photos from your photo library.
• View your personal home page or 40 most recently opened, edited or added documents.
• View document profiles.
• Download documents for offline access when not connected and for quick access.
• Create a passcode for further security and protection, or use Touch ID.
• Access your contacts list for emailing document links or attachments.
• Upload documents to third-party editing apps.
• Print documents using a Wifi printer or Breezy printing services.
• Use your organization's login services such as ADFS, OKTA, OneLogin and other supported federated identity providers.
• Edit documents directly with Office365 apps, with appropriate licenses.
The NetDocuments app integrates out-of-the-box with any "WebDAV" or "Open in" compliant apps such as Documents To Go, Pages, GoodReader, etc.

ShareSpaces cannot be accessed from this app.

NetDocuments is fully integrated with Salesforce.com and is the leading cloud content management service for law firms and financial advisors. The company has been in business since 1998 with a feature-rich, enterprise-level content management service with business continuity built-in. All documents are encrypted in transmission and at rest. Documents are stored in highly secured, world-class data centers with full redundancy, backup and protection.
What's New in the Latest Version 2.6.4
Last updated on Nov 25, 2020
Old Versions
Fixed UI bugs related with iOS update to 14
Version History
Fixed UI bugs related with iOS update to 14
Support for the US GOV data center
Fixed a bug that impacted app2app signin between the Microsoft Office apps and the NetDocuments app.
Added a setting to disable Offline mode.
Fixed several bugs.
A new setting allows an administrator to choose Outlook for users' default email app for emailing copies and links. If no email app has been configured, a user-configurable setting has been added that allows users to choose Outlook for sending emails
Users can edit the names of documents during upload process.
Documents can be renamed up to 1,000 characters.
Version names and descriptions are shown on the versions list page.
Locked documents are shown with a 'Locked' label and those documents cannot be deleted.
The default logout period has been increased to 90 minutes.
Users are encouraged to enable TouchID/FaceID when turning on passcode setting.
Updated support for the New Login Viewer in iOS13.
Enhancements to how the app works within the default Files app.
A warning is shown after 5 failed passcode attempts
Users can now copy links and email addresses when the EMM setting restricting copying is applied.
The Application Configuration Settings page shows if a Security Code has been set (but not its value).
The EMM printing controls have been deprecated, as the printing app is no longer supported.
When a new security code is pushed out to the app, the user is logged out.
Numerous bug fixes.

Fixed minor issues related to iOS 13.
Fixed a bug related to Open In
When a document has been checked out, a new "Reset to Checked in" action will be available.
A passcode need not be provided again until the app has been closed, the user's login session has timed out (or the user logs out manually), the device has been locked, or the device has been powered off.
If a user enters the wrong passcode 6 consecutive times, any content taken offline will be removed.
Any type of file can be uploaded from the Gallery.
The workspace lookup feature will return closed matters.
Bug fixes and related enhancements.
Added support for Face ID as an alternative to entering a passcode.
Allow users to favorite or unfavorite any content (i.e., added to the NetDocuments Home page).
Allow documents to be deleted.
Allow documents to be renamed.
The actions menu for documents has been reorganized; actions are now grouped together.
The actions menu for containers has been reorganized and made consistent regardless of where it is accessed from.
Added support for app2app signin for the MSFT Office apps. The Office apps will now use the NetDocuments mobile app for authentication purposes by default, when adding NetDocuments as a place in the Office apps.
Fixed an issue related to opening documents in O365 apps.
Annotations in PDF files will now be rendered when previewing a PDF file.
Support for VMware AirWatch Boxer email app for sending email links.
Fixed a bug related to searching by date.
Enhanced support for multi-factor authentication.
The list view for documents and other content has been redesigned to provide more information, like whether content has been favorited. Also, access to actions in list view has been moved from a slide-out menu to a pull-down menu.

When switching between the NetDocuments mobile app and other apps on the device, the contents of the NetDocuments mobile app will be covered.

Added an option to search all of the cabinets the user has access to, in addition to searching one cabinet at a time.

There is a new setting to allow a firm to disable the "What's New" dialog from appearing when a new version is installed.

A new "Login Viewer" setting has been added to support certificates for federated authentication. This can be enabled manually or using an EMM setting.

Using the EMM setting governing sending emails, emails can be configured to be sent via the MaaS360 Secure Mail app.
Fixed a bug related to Federated Identity.
Fixed a bug related to lookups.
Universal Links supports new link formats introduced in NetDocuments 18.1.
The passcode can be set to 4, 6 or 8 digits long. Certain passcode values may not be used. Six consecutive passcode failures will log the user out.
Several new EMM configuration settings have been added, including control over: the passcode length, direct access to the Federated Identity login page and defaulting to auto login.
The EMM configuration settings applied to a device can be viewed from the Settings tab.
The options to open a Microsoft Office document in the associated Office app are now dynamic, based on the user's access rights and the status of the document.
A link to a workspace, folder and other containers can be copied or emailed.
Several new EMM configuration settings have been added, including control over: the default host, displaying the "Edit in [Office]" button, whether auto login is available, whether a passcode is required, and whether emails can be sent.
Email attachments can be viewed.
TouchID - Users can now use TouchID as an alternative to using a passcode.
Additional Access to Versions - Users can now access unofficial versions of a document when selecting a document from the file picker.
Updating Offline Content - Offline content, both individual documents and containers, can be fully updated by pulling down on the content inside the Offline tab.
Uploading Documents - When adding a document, users will now have an option to save the document as a new version of an existing document or be asked to confirm replacing the official version.
NetDocuments for EMM FAQ
Check the following list to see the minimum requirements of NetDocuments for EMM.
iPhone
Requires iOS 10.0 or later.
iPad
Requires iPadOS 10.0 or later.
iPod touch
Requires iOS 10.0 or later.
NetDocuments for EMM supports English
NetDocuments for EMM Alternative