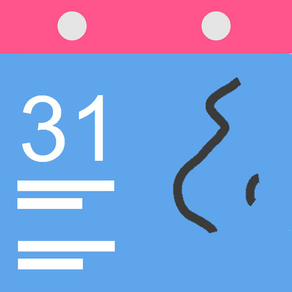 OB Calc Pro
Pregnancy Wheel for doctors
$4.99
About OB Calc Pro
Obstetricians, are you tired of calculating important patient dates using a calendar or spreadsheet? While similar to a pregnancy wheel, OB Calc Pro is specifically designed by an obstetrician, for obstetricians. Finally obstetricians have an efficient and simple method to calculate the important test date windows for patients.

(Appreciation to Dr. Rosanne Botha, an amazing OB/GYN, for the inspiration behind this app.)

CALCULATION METHODS

• Last Menstrual Period (LMP)
• Expected Delivery Date (EDC)
• Sonogram Date and Fetal Age (Sonogram)
• Crown Rump Length (CRL)

FEATURES

8 common test dates are set up by default. However, these test names and date windows can be completely customized in the Settings screen so you can set up your own items if you prefer. OB Calc Pro supports up to 10 test dates.

If you like this app, please consider leaving rating comments as well as emailing me directly with feedback. You can reach the developer directly at support@inpocketsolutions.com

** Disclaimer
Remember to test out the app on your specific device to ensure calculations are verified to your expectation.
What's New in the Latest Version 1.06.04
Last updated on Jan 31, 2020
Old Versions
Link to the new version of the app which premium features are available to current users for 2020.
Version History
Link to the new version of the app which premium features are available to current users for 2020.
Link to the new version of the app which premium features are available to current users for 2020.
Support for the date picker when using the iPad floating keyboard
• Support for devices running iOS 13.
• Support for newer devices
• Updated the data tables for the CRL calculation.
• update to user interface
Sort tests by ascending date
Manual order tests on the test screen
User can customize the sonogram week slider maximum value from the settings screen.
Sonogram week slider values changed to 5 - 16 weeks for easier number selection.
support for German and French languages
• Date selector size reduced to single line to fit more test dates on smaller devices. Tap on date to bring up date selector at bottom of screen.
• Screenshot option has been improved to give the data in a table format for sending via email
• Added a Share option
• Added a Rate option
• add video to app info page
• improved navigational menu
• redesigned layout for iPad devices
• support for Spanish and Portuguese translations
• Added screenshot button at top to save screenshot to photo gallery
• Added patient name option. Tap name label to enter a patient name.
• Added more default tests, and increased maximum number of tests from 5 to 10.
• Added CRL calculation method
• Added LMP Date for EDC, Sonogram and CRL methods
- Better screen adjustments for different iPhone sizes.

- Calculate button has been removed. App calculates test windows as date and sliders are changed in real time.
13 January 2015

Added a Settings page where users can now edit the test names and the date windows. If you only want a single date and not a date range, simply enter the weeks and days for the first input and enter 0 for the weeks and days of the second input.

Thanks for your support.
OB Calc Pro FAQ
Check the following list to see the minimum requirements of OB Calc Pro.
OB Calc Pro supports English, French, German, Portuguese, Spanish