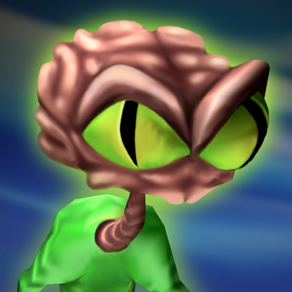 Otto Matic
5.6
for iPhone, iPad and more
About Otto Matic
• WINNER of the Pocket Gamer Bronze Award!

• 10 levels on amazing 3D alien worlds!
• Battle 25 different alien creatures!
• Attack with 7 different types of space-age weapons
• Fight off giant radioactive killer vegetables!
• Ski behind giant metal sea monsters on a river of toxic ooze!
• Ride soap bubbles across noxious lakes of slimy goo!
• Get shot out of a cannon!
• Rescue humans from flying saucers!
• Ride bumper cars!
• Drink radioactive potions to grow to 50ft tall!
• Ride a zip-line to escape mutant radioactive robots!
• Pilot a flying saucer and lay waste to an alien fortress!
• And much, much more!

The year is 1957 and a fleet of flying saucers from Planet X have come to Earth. These saucers are under the control of the evil Brain Aliens who are abducting helpless human beings and taking them away to strange alien worlds to become slaves of The Giant Brain.

You are Otto Matic, the robot given the job of saving Earth from the Brain Aliens. Your rocket ship will take you to each of the alien planets, and on each planet you must save as many humans as you can, but be careful because the Brain Aliens will try to abduct the humans before you can save them. Once The Giant Brain has been defeated and peace has been restored to the galaxy, you will return to Earth with your human cargo where they will be freed.
What's New in the Latest Version 5.6
Last updated on Jul 8, 2022
Old Versions
Now supports 120hz refresh rates on newer iPhones.
Version History
Now supports 120hz refresh rates on newer iPhones.
Maintenance update for compatibility with latest version of iOS.
Updated for latest Apple hardware.
Fixes crashing problem at startup on iOS 10
Added a "Clear Saved Checkpoint" button in the Settings. This was already in the tvOS version, but we forgot to add the button in the iOS dialogs. Pressing this button clears the current checkpoint from the level in progress so that you can start it from the beginning if you so choose.
Major update to the internal workings of the game in order to make it compatible with the Apple TV version. Unfortunately, any existing Saved Games will be lost with this update because we completely changed how that works. Now you do not have to actually save and load games. Instead, your progress is automatically saved to iCloud which means it is synced across all of your devices. If you complete Level 3 on your iPad then you can continue there from the Apple TV, or vice-versa.
• Optimized for 64-bit! Runs super-fast on the new iOS devices with the A7 chip.
• Improved Game Controller support.
New for iOS 7:

• Game Controller support!
• Speech Synthesis support!
• Scores go to Game Center leaderboards!
Added support for BladePad game controller
Minor bug fixes for iPhone 5
Now supports the 4" screen on the new iPhone 5 and iPod Touch!
NOTE: Verizon iPhones require iOS 5.0 to play this version. All other devices only need 4.3.

• You can now play in *true* HD on your HDTV via Airplay! Either play wirelessly via AppleTV or with an Apple HDMI Adapter.

• Significant internal code updates and improvements.
• Major performance improvement on iPad 2
• Fixed texture mapping bug on Level 3
Added support for the Fling™ game controller for iPad: http://tenonedesign.com/fling.php
Major graphics improvements with new reflection mapping.
Fixed a problem where the game would sometimes crash when switching from the background to foreground process.
• Now universal binary so Otto Matic will run on all i-devices (iPad, iPhone, iPod Touch) running iOS 3.1.3 or later!

• Additional improvements running on the new iPhone 4
Updated for the iPhone 4's Retina Display. The game now runs native at full 960x640 resolution! Otto Matic will still run great on older iPhone/iPods running iOS 3.1.3
** MAJOR UPDATE **
- All new controls, so the game is much, much easier to play now.
- Improved graphics on the iPhone 3GS. Takes better advantage of the increased horsepower.
- Other misc improvements.
Fixed crash bug at the end of Level 5. Now requires iPhone OS 3.0 or later. Minor performance optimizations.
• Improved performance
• Faster level load times
• Reduced memory usage
• Improved controls
Otto Matic FAQ
Otto Matic is available in regions other than the following restricted countries:
China
Otto Matic supports English
Check the following list to see the minimum requirements of Otto Matic.
iPhone
Requires iOS 12.0 or later.
iPad
Requires iPadOS 12.0 or later.
Apple TV
Requires tvOS 9.0 or later.
iPod touch
Requires iOS 12.0 or later.