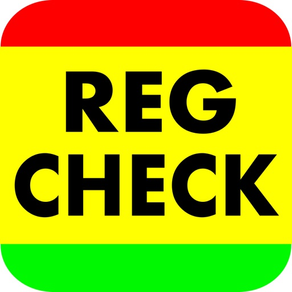 REG CHECK
2.4.2
for iPhone, iPad and more
About REG CHECK
Easily check vehicle TAX & MOT status / history
Check Mileage (actual & average miles per year)
Share vehicle results by email

Type in the REG then tap "REG CHECK"

Tap button to view:

VEHICLE DETAILS

Make
Model
Colour
Cylinder capacity
CO2 emissions
Fuel type
Type approval
Wheelplan
Year of manufacture
Revenue weight
Euro status
Real driving emissions
Last V5C issued

VEHICLE STATUS

TAX
MOT
Odometer
Since
Passed
Failed
Pass rate

MOT HISTORY

Expiry date
Result
Date tested
Time test complete
Odometer reading
MOT Test number
Advisory notice with details (if any)
Reasons for refusal to issue Certificate with details (if any),

VEHICLE MILEAGE

Graph showing:
MOT test date
Avg miles per year

MOT test date
Odometer reading
Miles / Days since

USEFUL LINKS

Check insurance status
Check vehicle tax rates
Tax your vehicle
Register off road (SORN)
Report untaxed vehicle
Get MOT reminders
Congestion charge

SHARE

Send search results by email

-

IMPORTANT NOTICE

All vehicle data is provided by the UK Government DVLA database
No liability for accuracy of the data will be entered into by the author of this app
The information is used at your own risk and must not be used for any illegal purposes
What's New in the Latest Version 2.4.2
Last updated on Oct 29, 2022
Old Versions
General performance and appearance improvements

Hold search history button (top left) to share or remove all searches

Search history shows make & model, date of last search, TAX & MOT status

LINKS new option:
Google search for this vehicle
Version History
General performance and appearance improvements

Hold search history button (top left) to share or remove all searches

Search history shows make & model, date of last search, TAX & MOT status

LINKS new option:
Google search for this vehicle
General performance and appearance improvements

Hold search history button (top left) to share or remove all searches

Search history shows make & model, date of last search, TAX & MOT status

LINKS new option:
Google search for this vehicle

BUGFIX for crash on startup under certain conditions
General performance and appearance improvements

Hold search history button (top left) to share or remove all searches

Search history shows make & model, date of last search, TAX & MOT status

LINKS new option:
Google search for this vehicle
MILEAGE shows odometer discrepancies (if any)

Hold REG search button to share or remove all searches

REG search shows date of last search and TAX / MOT status

DETAILS now also includes:
Export marker
Revenue weight
Euro status
Real driving emissions
Date when first used

LINKS (new tab)
Check insurance status
Check vehicle tax rates
Tax your vehicle
Register off road (SORN)
Report untaxed vehicle
Get MOT reminders
Get HPI check
Check for recalls
Congestion charge
Improved appearance
Added search history
Added mileage chart
Updated history - added Vehicle Record
FIXED spurious text at start of Vehicle Details
Updated icon to differentiate from free version
FIXED missing comments on MOT history
FIXED bug when requesting MOT history on newly registered vehicles
Fixed bug when retrieving MOT history data on newly registered vehicles
Implemented better data retrieval system
Added separate RATES page
Implemented better data retrieval system
Added separate RATES page
Added colour indicator to TAX and MOT status
Improved layout of MOT History
Fixed communication with database
No longer require make of vehicle
Improved appearance of results
Improved graphics
Code optimisation
Fixed communication error with DVLA database
"Report to DVLA" menu will appear if vehicle is untaxed
Fixed data download
Added buttons for Status, Details and History
Updated Road Tax rates
Removed V5C doc ref (not required now)
Improved general efficiency and layout
App will automatically retry if there is a download error.

Tap "REG CHECK" again until data is downloaded correctly.
Shows Tax Rate table if V5C is not available
Fix for DVLA updates that caused vehicles not found
Enter V5C doc ref for tax rates and MOT history
Bug fix for data changes to vehicle info

Open DVLA website if error checking fails
Improved layout and appearance

Added body type in vehicle details

Optionally shows MOT history with V5C doc ref number
REG CHECK FAQ
Check the following list to see the minimum requirements of REG CHECK.
iPhone
Requires iOS 8.0 or later.
iPad
Requires iPadOS 8.0 or later.
iPod touch
Requires iOS 8.0 or later.
REG CHECK supports English