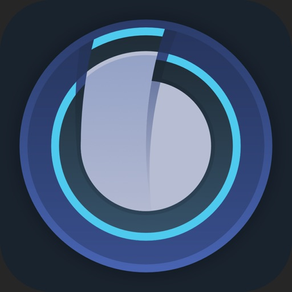 TeamSpeak 3
The Professional Gamers Choice
3.6.4
for iPhone, iPad and more
About TeamSpeak 3
Voice Chat Communication used by Professional Gamers.

----------

TeamSpeak is an advanced voice chat and communication app that enables groups of people to communicate and share information with each other via the internet or through private networks, whether they are using smartphones or desktop PCs/Macs.

FEATURES:
● Ad & Spam Free
● Low data usage
● Minimal CPU Usage
● Advanced Permission Controls
● Offline/LAN functionality
● Use on public or your own private server
● Use Anonymously
● Synchronise your bookmarks across devices
● Push-To-Talk (PTT) and voice activation
● Connect to multiple servers & channels
● Send and receive group and direct messages
● Identity and contacts management
● See detailed channel and player information
● Get player status notifications
● Universal app for iPhone/iPod/iPad

The preferred voice chat solution for online gamers, friends and family and small businesses world-wide. TeamSpeak lets you chat with fellow team mates, discuss strategy in real-time, or facilitate online events.

TeamSpeak can be run on either your own private server where you can securely connect with and chat to your guild, clan or colleagues. Or jump on one of the many public servers and channels.

TeamSpeak3 for iOS is optimized to enhance your mobile device experience and keeps you connected with your peers while you're on-the-go.

To communicate with other users using TeamSpeak, you must be connected to a TeamSpeak 3 server (directly connecting to users is not possible).

To view a list of public servers, download the TeamSpeak desktop client and choose Connections > Server List.

To join a private server, contact your clan/guild/group's administrator for the information you would need to connect.

Our team of developers are constantly working on improving the solution and to add new features to give you an even better experience.

If you find a specific bug or crash issue please let us know. In most cases our developers will find and squash bugs or fix crash issues quickly, especially if you can aid us with information regarding your hardware or environment, and how to reproduce the issue. You may even get a reward!
What's New in the Latest Version 3.6.4
Last updated on Nov 15, 2022
Old Versions
Added support for connecting to TeamSpeak 5 servers.
Version History
Added support for connecting to TeamSpeak 5 servers.
Added new voice activity detection modes:
- Automatic: A new machine learning enhanced mode that detects voice
- Volume Gate: Our classical voice activity detection, that offers a slider to tweak its threshold
- Hybrid: A combination of both, using the automatic mode while also offering a threshold slider

The previous voice activity detection configuration is using the Automatic mode now,
you can change this behaviour in Settings -> Voice Modes.
- Updated UI with our new logo.
- Fixed compatibility issues affecting synced identities coming from our desktop TS5 beta.
- Stability and performance improvements.
- Fixed "Push-to-talk is required" prompt,
which was showing up incorrectly on 3.12.1 servers with certain permission setups
- Fixed crash when moving other clients
- Dark mode support with new icon pack
- Tweaks for iOS 13 and stability improvements
- User badges are verified now
- Adjustments for larger screen sizes
- Fixed account page not being updated correctly
- Fixed the speaker mode toggle getting unresponsive.
- Fixed bugs related to myTeamSpeak services.
- Audio related bug fixes.
- Fixed crash on startup when TS is opened from the iOS 12 Shortcuts app.
- iOS 12 related improvements and adjustments.
- The Forced-Push-To-Talk permission on servers is no longer ignored.
- Fixed "failed connection initialization" error showing incorrectly.
- Various myTeamSpeak ID fixes.
- Stability improvements, most notably crash fixes in the sound backend.
- Introducing myTeamSpeak integrations for Twitch.
- Dropped support for pre 3.1.0 TeamSpeak servers.
- Bug fixes for myTeamSpeak sync.
- Fixed client info crash related to Server Query groups.
- Fixed certain connection error messages not being displayed.
- Introducing our new logo.
- Added support for the iPhone X screen resolution.
- New icon set to match the desktop client.
- Improved audio handling on devices with iOS 10 and up.
- Moved speaker mode option to the side menu and added new icons.
- Previous channel will be rejoined with the correct nickname after a reconnect.
- Fixed problems with the server connection timing out after accepting a phone call.
- Removed a permission error when subscribe all is active.
- Fixed crash in the player info menu.
- Fixed the connecting overlay not being shown.
- Fixed voice activation getting overwritten by PTT.
- Fixed bug that prevented nickname changes.
- Fixed layout problems in the set server group screen.
- Fixed crash that could occur right after connecting to a server
- Added Server Nicknames feature. Register a server nickname to let users easily connect to your TS3 server
- Added support for new server property and permission, which allows you to
enter registered server nicknames as server property to display it to all
users on this server
- Support for new black/graylist backend
- Fixed a bug where the channel passwords entered in bookmarks was not used
- Added client description in client info
- Fixed a bug which prevented joining channels after an error occurred
Bug fixes and stability improvements.
Fixed issues affecting bluetooth headsets.
- Bug fixes and stability improvements
Introducing myTeamSpeak, a new service which lets you synchronize bookmarks and identities across your devices.

- New bookmarks interface with support for folders
- Bookmarks are accessible from the main screen
- Added search bar with quick connect option
- Added IPv6 support
- Bug fixes and stability improvements
- Added option to improve the security level of identities
- Added possibility to set the voice activation level without being connected
- Changed the look of some interfaces
- Fixed server and channel group sorting
- Fixed invalid channel id error after connecting
- Channels will correctly display a password if they get edited
- Bug fixes and stability improvements
*Updated client library to 3.0.18.2
*Removed references to our website by request
3.1.10
- Fixed a scroll bug on iOS 7 devices

3.1.9
- iPhone 6 and 6+ optimized
- added licence agreement
- fixed scrolling in chat
- added disconnect messages for chat partners
- added overlay for errors and private messages
- fixed unable to join password protected channels
- improved performance
- bug fixes
- iPhone 6 and 6+ optimized
- added licence agreement
- fixed scrolling in chat
- added disconnect messages for chat partners
- added overlay for errors and private messages
- fixed unable to join password protected channels
- improved performance
- bug fixes
• Updated Client to 3.0.16
• Updated BBCodes
• Fixed Chat with multiple Users is broken.
• Fixed PTT Button is not shown in Landscape mode
• Fixed Bluetooth support
• Fixed Server Query is shown in server log, even when "Show ServerQuery" is disabled.
• Fixed Avatar from user does not update
• Improved scrolling of the server tree
• Improved notification sound handling
• And more...
• Added many new contact settings.
• Audio should now work correctly through the built-in microphone after a bluetooth headset is disconnected.
• Added support for different sound packs, in particular the default text-to-speech on iOS 7.
• Numerous bug fixes and minor improvements.
• All new user interface, redesigned from the ground up to make the app easier to use.
• iOS 7 compatibility.
• Redesigned voice activation interface, voice activation level settings saved per-route, improved handling of headphones.
• Securely save channel passwords.
• Connect to a specific channel at startup.
• Improved message notification system, and can speak new messages on iOS 7.
• Lots of other improvements and bug fixes!
TeamSpeak 3 FAQ
Check the following list to see the minimum requirements of TeamSpeak 3.
iPhone
Requires iOS 12.0 or later.
iPad
Requires iPadOS 12.0 or later.
iPod touch
Requires iOS 12.0 or later.
TeamSpeak 3 supports English, German, Russian, Spanish