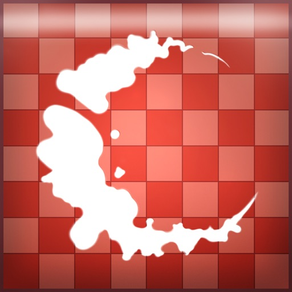 Dama World
Online Checkers Variants
Free
Offers In-App Purchases
3.5.0
for iPhone, iPad and more
About Dama World
Welcome to the Dama World..

You are currently viewing the most advanced Turkish Checkers (Dama) application.

Possibility to play 6 different checkers variants.
1. Turkish Checkers
2. International Checkers
3. American Checkers
4. Spanish Checkers
5. Brazilian Checkers
6. Gothic Checkers.

Play online
We reached a total of 17,000 players, and more than 280,000 online games were played.
Play Dama online with people from around the world. Messaging at the same time, meet the Dama masters.
Play with the time rules you want, set up games for 5 minutes or 30 minutes.
Join any of the installed games and start playing.
Watch all the games in the game room at the same time, get involved in the game, chat with the players.
Earn points with the rating calculation and take your place in the world rankings.

Dama Puzzles
Find the winning move in specially created Dama positions ranging from Level 1 to Level 8. Improve your checkers game.
Strengthen your game with endgame positions. 180 Dama Puzzles in total.
Solve Online Dama Puzzles simultaneously with other players and earn puzzle points.
Up to now, more than 115,000 dama puzzles have been and continue to be solved online.
Design your own Dama puzzles and share with other players, create your own custom puzzle list. See instantly how many times it has been solved and how many likes it has received.
Solve Dama puzzles prepared by other players and track your progress.

Tournaments
Participate in Swiss style tournaments, collect tournament points, see your ranking at the end of each tournament and track your progress.

Rankings
Track stats in 7 different ranking tables, see your world rankings, check out other players' profiles, check out the games they've played.

Play offline with computer
Play between 1-10 difficulty levels with advanced artificial intelligence. Analyze moves back and forth, create positions. Play the computer with the computer or play by yourself.

Classic games
See 56 famous Dama games from Ottoman times. Examine how to win the game in the best way by giving 15 stones and getting 16 stones.

Learn the rules of Checkers in the how to play section, choose from 4 different designs in the settings section, follow our Facebook page.
What's New in the Latest Version 3.5.0
Last updated on Dec 7, 2022
Old Versions
Added engine for all checkers variants and chess. The ability to play with the computer and analyze the games has arrived.
Profile picture resolution increased. (You need to upload your profile picture again.)
Country flags and common chat areas have been removed.
Some bugs have been fixed and performance improvements have been made.
Version History
Added engine for all checkers variants and chess. The ability to play with the computer and analyze the games has arrived.
Profile picture resolution increased. (You need to upload your profile picture again.)
Country flags and common chat areas have been removed.
Some bugs have been fixed and performance improvements have been made.
Adding and removing friends, private messaging, user blocking features added
chess game added
notification settings have been added (the types of notifications to be received and the time interval to be received can be determined)
Added icon to menu buttons
Added display of player counts
added display of changes in rankings
Added feature to open profile page by clicking user picture in game room and puzzle room
Added link to puzzle leaders ranking from puzzle room
Added zoom feature to profile picture
Added feature to delete profile
time for drop from game has been made to 60 seconds
Added the ability to warn non-playing players
Added ability to copy chat message
added automatic chat message language translation (can be turned off in settings)
reduced ad display on offline puzzles
Removed ad display in hint display for pro users in offline puzzles
Added elimination of non-playing players in tournaments (it will say eliminated next to the user)
improved player matchmaking in tournaments (players playing in previous rounds will not be matched)
When the rematch is opened, the spectators will be able to switch to the rematch game if they want, without leaving the game.
Prevented unwanted clicks from updating the list just before clicking in the game room
Added user reporting to the left menu in the game
Added check to not get names used when creating user
Improved in-game sounds
Fixed bugs with opening multiple games
Fixed the error of losing time as if he didn't make a move even though he made a move
some minor bugs fixed
Made some minor performance improvements
Profile pictures added. You can add a picture to your profile.
Computer analysis added. You can analyze your games, you can see your mistakes.
Unrated game added. You can play games without points.
You can change the application language in the settings.
Fixed the bug about losing by time while there is time.

Fixed login problem with Apple account.
Fixed a bug with displaying player times.
If the player who sets up the game does not start the game within 120 seconds after the opponent's arrival, lose the game.
Those who have not played 10 online games cannot participate in the tournaments.
The application name has changed to Dama World.
The application icon has changed.
Added tournaments. The tournaments will be played according to the Swiss method, anyone can participate.
Added puzzles section from you. You will be able to create your own puzzles and upload them to the system. You will be able to follow how many times it has been solved and how many likes it has received.
Added in-game chat. The names of the audience will be listed, and the audience will be able to join the conversation. Table owners can turn off the chat if they want.
During the game, it will show the remaining number of pieces of the sides.
In the online game, the number of times players have played before and the score will be displayed.
The user will be able to scroll through the list of moves, chat messages and the scoreboard by swiping his finger.
The names of the spectators will be listed at the bottom of the game room.
Quick games will appear in a different color and have a quick game text next to it.
While the computer is thinking, how many moves has it calculated etc. will be displayed by updating the information.
The player participating in the game will no longer be able to cancel the game. If he does not play, he will lose points.
Increased the dropout time due to connection from 50 seconds to 120 seconds.
Fixed a bug with game crashing due to in-game chat.
Adjustments have been made for connection errors and some minor errors.
The app has been made more stable.
Added Puzzle room for Turkish Checkers
Now shows game positions in game room
Shows how many people watched the game
Added button to show game positions larger
Shows the score that will be obtained in case of win, draw and defeat in the board game
Added inclusion in chat in watched game
When a chat message arrives, it appears in the place of the move list.
Added time information to chat messages
Added ability to translate chat messages
Added the ability to enter rating ranges when creating a game
Added autoplay/play option on one move left
Added show last move option
Added option to show coordinates on game board
Added option to play with black and white pieces in old ios version
Added puzzle leaders ranking for Turkish checkers in the rankings section
Puzzle score added to My Profile screen
Announcements added
Added a rule of having played at least 10 online games to be able to join the chat
Fixed a bug in the rating account shown at the end of the game
Fixed a bug with network error message display too often
Fixed a bug with playing online games
Fixed a bug with previous and new rating displays in played games
ios 12, ios 13 fix. app was crashing on start up.
Computer was not making moves problem fixed
Computer was not making moves problem fixed
Added checkers variants. international checkers, spanish checkers, american checkers, brazilian checkers, gothic checkers
Added chat to online game
Added chat to the game room where all players can join
Added the ability to filter games to the game room
online game move transfers speeded up
themes updated
board and pieces updated
Added option to play again when online game ends
Added the option to cancel the game without losing points on the first move in the online game
Added automatic game-losing check if players who dropped out of the game or disconnected are not reconnected within 50 seconds
Added ability to report rude players
Added the ability to change name and country on the profile screen

GameCenter login problem solved.
Some other minor bugs fixed.
iOS 14 updates.
Yes, Checkers Lovers, we are here with version 2.7.
We have now added TOURNAMENTS alongside online games. Take part in Tournaments running according to the Swedish system and see your ranking.
We have added an option to watch pre-played games. You can watch your old games or the games of other players.
Download the new version now and don't forget to register for the tournament.
Good games ...
Online game custom time control added.
You can now create online games with custom time control settings.
iPad screen orientation problem fixed.
Online game added.
Help section added.
Pro version added. (Ads free version)
iPad screens redesigned.
Game play settings added.
Country flags added.
Online puzzles count pass 10K. Hurry up, solve puzzles, gain points and develop your game play.

Puzzle Hint Button was not showing hint after rewarded video add. It is fixed.
A bug with position setup fixed.
User puzzles are now grouped by user names.
Online puzzle user names will be updated when Game Center user name changes.
Online puzzle wait duration is reduced to 30 seconds. So, you won't wait too much for next puzzle.
iOS 13 update
Arabic language support
Sliding side menu
Hint while playing with computer
Flipping board 180 degrees
A bug while capturing pieces is fixed
Move animations are now faster
Continue to previous game
Version 2.1 is ready.
We have changed app name to Dama World.
Puzzle solver mode added. You can solve puzzles with power of artificial intelligence.
Puzzles from you section added. You can prepare your own puzzles and share them with other dama players.
New designs added. You can change view of app from settings.
Drag and drop property added.
Please, do not forgot to review app.
With best wishes.
We have added new boards.
You can now setup board positions.
60 new puzzles (Level 6, 7 and 8) added.
20 end game puzzles added from Mr. Mehmet Özer Özerkman (Special thanks to him)
Now, you don't need facebook account to login Online Puzzles . Solve puzzles online with other players at same time. Collect points and see your ranking among others.
Online Puzzles added. You can now solve puzzles online with other players at same time. Collect points and see your ranking among others.
Coach is added. Now, AI will inform you when you have a good move and also when opponent has a good move in the game.
Playing as black with computer is added.
Puzzle Race. Solve 15 different checkers puzzles dynamically generated by artificial intelligence and see your rank on leather boards.
You can now forward or backward classic games. Better to analyze the game.
About page is added. You can send your feedbacks to us.
Happy games...
Puzzles added. There are 100 puzzles from level 1 to 5.
56 Classic Games added. Watch great Turkish Checkers games in history.
Self Play added. Play with your friend.
Demo Play added. Watch artificial intelligence self play.
How to play added. Learn Turkish Checkers game.
Settings added.
A little bug fixed with move animations.
Dama World FAQ
Check the following list to see the minimum requirements of Dama World.
iPhone
Requires iOS 12.0 or later.
iPad
Requires iPadOS 12.0 or later.
iPod touch
Requires iOS 12.0 or later.
Dama World supports English, Arabic, Turkish
Dama World contains in-app purchases. Please check the pricing plan as below:
Dama World Pro Version
$4.99