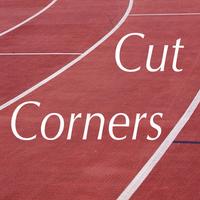 Cut Corners
$0.99
Cut Corners Description
This app is meant to be used as a different way to record a walk or run on a track besides calculating just time and distance. On the first screen of the app, you can select how far you would like to run/walk and tell the app how many laps you need to complete to register 1 mile. Most gyms have the amount of laps posted at their indoor track. Then the app will calculate for you how many laps your run/walk will take to complete, along with the amount of corners you would pass during it. I thought of this as a way to potentially make a track walk/run a little more exciting.

Also on the first screen, you can select which track lane you plan to run in, and indicate if the track is an oval. Some indoor gym tracks are more circular in their layout. The additional options will help better calculate the true distance you will cover during your workout.

On the workout progress screen, the app will tell you how many corners and laps you have completed, and let you know how many are remaining of each.

You have the option to save your workout to HealthKit, can pause the workout if you need to stop for a bit, and have the ability to start a new workout from the Results screen once you've completed your workout.

NOTE: For better accuracy please connect to your gyms WiFi network if you are indoors and start your workout at the beginning of a straight stretch of track for both indoor and outdoor tracks. Please also keep in mind that the total distance of your workout is determined by track length as well as the lane you choose. This will be reflected on the workout progress screen.