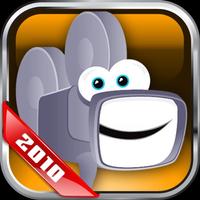 Film Bot's Movie I.Q. - 2010 (FREE)
Free Get
Film Bot's Movie I.Q. - 2010 (FREE) Description
Film Bot's Movie I.Q. - 2010!

NOW YOU CAN ENJOY THE FULL VERSION OF FILM BOT 2010 FOR FREE!!

Please note: This is an ad supported full version of the App. One is available for purchase without ads in the App Store.

ABOUT FILM BOT

How many movies did you see this year?

Think you know know them all? Then challenge Film Bot, the movie trivia robot! Film Bot Movie I.Q. is the addictive trivia game that Hollywood calls "amazing" and "the best trivia game - EVER."

Film Bot serves up multiple choice questions on the movies you love.

Written by the experts for movie lovers like you! How well do know your favorite movies?

Try Film Bot -Horror and find out!

Film Bot Movie I.Q. brings you:
Over 1000 questions.
Starring the all the big names of the 1980s including: all your favorites!
Easy, Medium and Difficult options! Record high scores! Coming soon: submit your own trivia to challenge other film buffs!