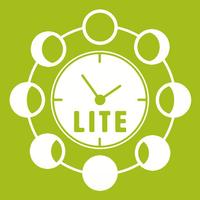 Lunar Clock Lite
Free Get
Lunar Clock Lite Description
The Lite version of Lunar Clock doesn't contain all features as HEALTH, FOOD, ACTIVITY and EXERCISE.
Buy full version of Lunar Clock and be more tuned on personal health and inner satisfaction.

Perfect Universe around us
We live in times that bring us lots of technical novelties, we even don't make it to get used to them and here comes another new thing. It has become rather normal before we get to poke our nose out of the window and check on the actual weather to click on an icon in the smart phone.

And so it happened that we stopped observing phenomena in the sky and around us and live accordingly. We don't perceive the Moon and the planets and their influences on the human body any longer. We stopped being aware that we are part of the perfect Universe surrounding and influencing us. We are no longer aware that we live on a planet that is a living organism as well. We are no longer aware that we can live thanks to this living organism.

Power of the Moon's gravity
It suffices to imagine that huge power of the Moon's gravity which raises the water in the oceans and the seas more than 10 metres and be aware that human body is made of water in 70 %. Not only are the high and low tides influenced by the Moon, but the weather, plants and animals as well. And women's periods and childbirths.
Our ancestors knew that and they had to rely on observing natural phenomena because their survival depended often on knowing nature's rhythms. The Moon showed them the right time to do everyday activities. They knew when to plant and pick the crop or cut a tree to build a house, to plan a marriage, conceive a baby and when it would be born thanks to the Moon's phases.

The Lunar Clock idea
We've gathered the information about the Lunar Clock application for more than 10 years and so we thought that instead of publishing a table calendar that is often not practical to take with you wherever you go, we would create a useful mobile application. It is made for those who want to align their lives consciously with nature's rhythms and live a long life in health, harmony and well-being.

Application design and content
From the graphic point of view, the application is very attractive on purpose so that it makes us want the right colorful food that will strengthen our health and balance. Navigation through the application is easy and the environment is user friendly.

You can see the current day and the next one. It will introduce you to the influence of various energies on that day, for example the Moon phase, influence of the zodiac, prevailing life energy, the color of the day and it will give you a useful tip for the day. You will get to know what effect the Moon will have on your health today, on your food and how to tune in to its energy consciously. Every day you will find some exercise for that day that will strengthen, relax and energize those body parts that are right at that time under the Moon's influence.
It is quite common today that every organ has a phase of maximum activity and a phase of lowest activity during the 24 hours. If we respected our organ hours, we would live as long as 130 years. You will find the organ clock in the lower part of the Lunar Clock.

Live with Lunar Clock
Download the Lunar Clock on your mobile phone and organize your activities according to the Moon. With the Lunar Clock you will know the best time to undergo surgery, visit a dentist, begin a weight reduction diet, to cleanse or give nutrition to your skin, cut or wash your hair, do a big tidy-up, washing, cleaning, as well as flirt or have sex. Live in alignment with the influence of the Moon and you will be happy to enjoy your health and vitality, and your work will go smoothly.

We wish you many positive experiences with the Lunar Clock! Your team ChilliPeppers.
Lunar Clock Lite 1.0.3 Update
We've updated our algorithms, all data in app are now far more accurate!
In last days we were experiencing some technical difficulties, which may have ruined app experience for some of our users, for which we're terribly sorry. We're now up and running again, in better form than ever!
More
More Information
Language:

Czech

English

Slovak

More