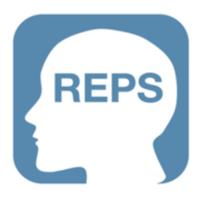 Resolving Psychological Stress
Free Get
Resolving Psychological Stress Description
REPS is an app that
1. assesses moods, anxiety symptoms, and behaviors with daily questions
2. administers attention bias modification (ABM) training (a type of cognitive training that has been shown to reduce anxiety symptoms).
Users can only access the app if they are enrolled in either the REPS (IRB Study Number 12-10411) or Remote REPS (IRB Study Number 17-22529) studies being conducted by Dr. Aoife O'Donovan at the University of California, San Francisco (UCSF).

The REPS app can be used by study participants for a total of 15 days with one training session per day, but participants have 21 days to complete the 15 training sessions. Upon entering the REPS app for the first time, the user rates a list of words in terms of how threatening the words are. This rating is used by an algorithm to create a list of personalized words that are used in the ABM training. Next, the user is asked questions about mood, daily exercise, stress, and alcohol use. After answering questions, the participants complete ABM training. The purpose of ABM is to train participants to look away from threatening stimuli, and has been shown in psychological research to reduce anxiety symptoms.

Specific Features:
1. Login ID and PIN
To engage with any feature of the REPS app, the user must login using an assigned Login ID and PIN ensuring that data are only collected on participants enrolled in the studies. Eligibility for the studies is determined by the UCSF researchers, and only eligible participants will receive a Login ID and PIN that will allow access into the REPS app.

2. Security Questions
Participants can set security questions that will allow them to login in case they forget their PIN.

3. Word Ratings
Participants view a list of 55 words and they rate how threatening each word is to them. This information is used within a recommender algorithm (similar to netflix recommender) to select personalized words from a large pool of words for use in the ABM training.

4. Daily alarm
Participants can set a daily alarm to remind them to use the app. The daily alarm is automatically disabled once the participant has completed all 15 training days, or once the allotted time for the participant has run out (i.e. 21 days from start of first interaction with REPS app).

5. Data collection
The app's data collection includes all responses to the daily questions as well as all data from the ABM training (i.e. words shown, probe location, response latency, correct answer, etc). No personally identifiable information is recorded (e.g. name, birthday, etc) through the app. Only the UCSF study staff have access to any data collected by the app.

6. Notification of training completion to study staff
Once a participant has completed all 15 days of training, an email is sent to the study staff that includes the Login ID for the user who has completed all training days. The REPS app does not have access to user email addresses. The purpose of this feature is to assist the study staff in participant progress tracking.

7. Help - FAQ
There is a Help section in the app that has a list of frequently asked questions to guide the participants. It also includes contact information for the study staff and instructions as to how they can end their participation in the study.
Resolving Psychological Stress 1.0.1 Update