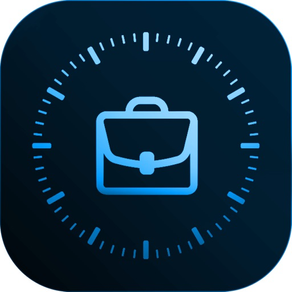 Business Tracker - iCubemedia
One-stop business management
Free
Best Deal Ever
4.0.1
for iPhone, iPad and more
Business Tracker - iCubemedia Screenshots
About Business Tracker - iCubemedia
Introducing iCubemedia's Business Expense Tracker - Your Optimal Financial Management Ally for iOS

Unveil the potency of a comprehensive and proficient expense tracking app formulated to ease your business financial management. The Business Expense Tracker proposed by iCubemedia offers a full-band solution for supervising and yield reports of your business receipts, expenses, income, time, and distance from any location in the planet.

Key Features:
- Effortlessly import bank statements from your online banking service
- Comprehensive tracking of expenses, income, time, and mileage for multiple projects, individuals, or companies
- Easily organize receipts by profile, date, vendor, payment type, and category
- Generate and send professional PDF reports
- Advanced smart scanner with auto-crop and image enhancement for receipt photos
- Customizable time tracking with auto-categorization
- Detailed mileage tracking for multiple vehicles with exportable custom PDF reports

Receipts Management:
- Effortlessly create and manage receipts
- Input total cost, tips, tax, payment mode, status, and notes
- Automatically calculate the final cost
- Conveniently sort and edit data

Photo Receipts:
- Capture multiple images for each entry
- Utilize auto-crop and image enhancement features
- Easily zoom and scroll through receipt images
- Export custom PDF reports by date, vehicle, origin, and destination

Mileage Tracking:
- Monitor mileage for multiple vehicles with start/stop odometer readings
- Input start and end addresses for automatic travel distance calculation
- Mark entries as round trips and choose between miles or kilometers
- Automatically calculate mileage and cost

Time Management:
- Set custom billing rates for hourly, per visit, or per day
- Automatically calculate time worked and categorize using preset rates


International & Future Features:
- Access live currency converter for real-time exchange rates
- Support for all major currencies and option to add custom currencies
- Available in 12 languages
- Dashboard, file attachments, integration with other business apps, customizable reports, company logo, and more!

Take control of your financial management and elevate your business with the Business Expense Tracker by iCubemedia. Download now and experience the ultimate convenience in expense tracking, reporting, and financial organization.

By using this app, you agree to the Apple End User License Agreement (EULA), available at: https://www.apple.com/legal/internet-services/itunes/dev/stdeula/
What's New in the Latest Version 4.0.1
Last updated on Apr 22, 2023
Old Versions
- Bug fixes
- Improved UI/UX
- Scalable database implementation
- Scalable server implementation
- User Authentication Implementation

- Price option flexibility:
Free(with ads)
Subscribe to remove ads
Version History
- Bug fixes
- Improved UI/UX
- Scalable database implementation
- Scalable server implementation
- User Authentication Implementation

- Price option flexibility:
Free(with ads)
Subscribe to remove ads
We have rebuilt, reinvested, and reinvented our company after a long hiatus, and we are now dedicated to delivering software that exceed our customers' expectations and drive their success. Here are some changes we made in the app:

- Bug fixes
- New UI/UX
- Scalable database implementation
- Scalable server implementation
- Price option flexibility:
Free(with ads)
Subscribe to remove ads
This app has been updated by Apple to display the Apple Watch app icon.

* Minor bugs fixed
* Improvements with iOS 10.3.2
* Improvements with iOS 8.3
Receipts Scanner becomes Business Expense Tracker 3.0 to avoid confusion.
Most awaited features.
* New PDF Customization screen: This will allow a user to set header style on your reports, making it look more professional.
* Add your own logo.
* Add signature
* Edit all words in your expense reports.
* Hide Tips and Tax if not needed.
Access those features from Manage Accounts (settings), tap on PDF Customization.
** Ability to import your bank statement. Two samples of bank statements are provided. Access the Bank Statement buttons from Manage Accounts screen and follow instructions from the Tips screen.

** Ability to duplicate a receipt. Open the receipt, tap on the copy button located at the bottom right corner.

** Edit the title of the receipt report. To change the title Expenses Voucher Report, go on Manage Accounts screen, then tap on Edit Report Title.

** Ability to mark a receipt Paid, Submitted, Pending.

** Ability to add Payment mode: Cash, Credit card, Debit card and others.

** Fixing the date order when saving receipt records.

** Fixing Destination and Origin in Mileage Tracker.

** Other improvements.
Now Time Tracker and Mileage Tracker are free!!!
Better improvement for iOS 8.1.2
* Full Custom PDF and CSV reports for Mileage and Time sections.
* Fixing bugs on Mileage and Time sections.
* Fixing refresh issue when changing the currency.
* Other Improvements.
Backup your data to your PC/Mac.
Clear all data with one tap.
Fixing bugs with scanner.
Fixing bugs with backup cloud.
High resolution image quality
** When scanning your receipts now you have image enhancement tools after cropping your image.

** Fixing bug with syncing data with images.
** Adding icons with receipt category.
** Improving stability.
** New iOS 7 Icon
** Fixing bug regarding Print functionality On PDF export screen.
** Now adding total for each expense category if user clicks on Category filter.
** Solving critical bug that lock the plus (+) button to add new receipts..
** Now when you switch profile or company the header of the report will change company.
** Now you can add more than one image to a receipt entry.
** Now when you backup or sync all images will be transferred as well
** Redesigned for iOS 7
** Fixing bug on Timesheet for a half hour.
** Adding back the Cropping feature.
** descendant list display for the receipts.
** Removing currency symbol on CSV export files to allow better integration for accounting softwares.
** Now user can choose multiple category when exporting reports for PDF and CSV .
** Now user can sort alphabetically wise or date wise when exporting reports for PDF and CSV
Fixing bug with saving receipts photo.
Solving bug with export reports.
Solving bug with saving receipt photos.
Fixing other bugs.
* Adding crop tool to save a specific area of receipts.
* To convert KM to Miles just click on Total Mileage at the bottom of the screen Mileage section.
* Fixing bug when on Time log sheets.
* Fixing bug with Attach Image switch button
* Support now multi profiles, now you can enter receipts for different activities.
* More filter when exporting reports: per company, per vendor, per category.
Fixing Task window
Other bug fixing.
Urgently fixing bug that hides the add button on Receipts.
Solving bug that causes crash from Manage Accounts window and In App Purchase.
Adding Mileage Tracker and Time Tracker module.
Adding Currency convertor module.
Fixing bug with editing old entries.
Changing Export window make it easier for user to export Expenses Report.
Adding CSV format on Export window.
Business Tracker - iCubemedia Price
Business Tracker - iCubemedia FAQ
Check the following list to see the minimum requirements of Business Tracker - iCubemedia.
iPhone
Requires iOS 16.2 or later.
iPad
Requires iPadOS 16.2 or later.
iPod touch
Requires iOS 16.2 or later.
Business Tracker - iCubemedia supports English
Business Tracker - iCubemedia contains in-app purchases. Please check the pricing plan as below:
Monthly Subscription
$3.99
Business Tracker - iCubemedia Alternative