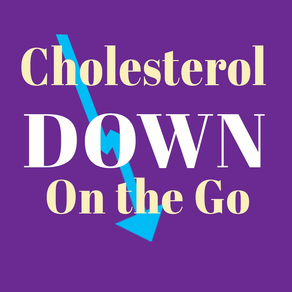 Cholesterol Down On the Go
Cholesterol Down On the Go Screenshots
About Cholesterol Down On the Go
How do you lower cholesterol naturally without statin medication? Lower your LDL cholesterol levels
naturally with the Cholesterol Down App's proven 10-Step cholesterol check plan with tools, trackers,
expert guidance and recipes.

High LDL cholesterol level is a major cause of heart disease. Now Dr. Janet Brill, RDN, LDN, FAND, offers
you a revolutionary new heart health check plan with her Cholesterol Diet App containing vital
cholesterol diet foods & exercise, to help you lower your LDL Cholesterol level and control cholesterol
naturally — without the risks of statin drugs. The Cholesterol Down App is based on her bestselling book
Cholesterol Down - 10 Simple Steps to Lower Your Cholesterol in Four Weeks - Without Prescription
Drugs.

Dr. Janet's breakthrough Cholesterol Down App takes you through a proven 10-step plan to help you
reduce cholesterol without statins and achieve your LDL Goal. This is a very useful cholesterol tracker
app and cholesterol diet app helping you with an ldl cholesterol diet. Reduce bad cholesterol with
healthy cholesterol foods, exercise, tracking your LDL, setting goals and achieving them in a fun, easy,
non-stressful and delicious way!

WHY DO YOU NEED CHOLESTEROL CONTROL
* Having high blood cholesterol ("bad" cholesterol or LDL cholesterol) raises the risk of heart disease,
the leading cause of death, and for stroke, the fifth leading cause of death.

* In 2015–2016, more than 12% of adults age 20 and older had total cholesterol higher than 240 mg/dL

* 55% of the U.S. adults are currently taking high cholesterol treatment medicine

* 95 million U.S. adults age 20 or older have total cholesterol levels higher than 200 mg/dL. In nearly 29
million adults, it is higher than 240 mg/dL, which puts them at high risk for heart disease.
(Source: CDC.gov/cholesterol/facts)

LOWER CHOLESTEROL NATURALLY
The easy 10 step lifestyle program will help you reduce bad cholesterol in just 4 weeks! The Cholesterol
Down App helps you to follow the program with the following tools:

• Personalized LDL Goal

• LDL Cholesterol Tracker to check your cholesterol level and maintain a record

• Helps in achieving your goal with planned diet, exercise and super foods

• Helps you to stay firmly on track with a Daily 10-step Checklist so that you don't miss a single step –
includes the cholesterol down diet plan

• Delicious cholesterol recipes which are nutritious and simple to prepare

• Useful information and tips on the best foods to power your heart towards good health - with practical
tips and safety precautions

• Daily, Weekly and Monthly Progress Summaries for each step to check your progress on Food and
Activities — so you'll know when you are on track and where you need more effort

• Timely, gentle alerts to remind you of missed steps

• Walking tracker to help you meet your exercise goals

Follow this 10-step plan and you will be able to reduce your cholesterol level naturally, and for heart
disease prevention. The App provides the fastest way to lower cholesterol without a statin mediation or
as an LDL-lowering adjunct to your physician-prescribed medication for major LDL-cholesterol reduction.
What's New in the Latest Version 2.1
Last updated on Oct 4, 2019
Old Versions
Version History
All Recipes available in Recipes Tab,
UI Enhancement
Cholesterol Down On the Go FAQ
Check the following list to see the minimum requirements of Cholesterol Down On the Go.
Cholesterol Down On the Go supports English
Cholesterol Down On the Go Alternative