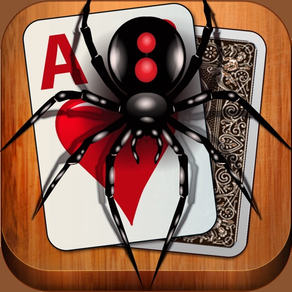 Eric's Spider Solitaire HD
1, 2 or 4 Suit, and Spiderette
Eric's Spider Solitaire HD Screenshots
About Eric's Spider Solitaire HD
Play Spider in style on your iPad with a fantastic user interface, beautiful graphics and subtle sound effects. Show off how good your iPad can look!

Drag, tap, or for the most fun, give cards a shove to send them on their way.

Try my easy-to-play game "Eric's Sudoku" – It's fun and free!

If you love Klondike solitaire check out Eric Snider's Solitaire: Klondike for iPad (and iPhone).

DESCRIPTION

Written by the same Eric that developed the Eric's Solitaire Sample and Eric's Ultimate Solitaire for Mac OS. You can drag and drop or tap cards to move them. You can even throw the cards with a shove! Supports portrait and landscape orientations and has a fantastic user interface.

Spider is one of the most popular variations of solitaire. It's Eric's favorite as it offers lots of room for skill. This version is strictly for iPad.

Your game is saved when you quit or get a call and is quickly restored when you return.

FEATURES:
- Four Spider variations -- 1-suit, 2-suit, 4-suit (traditional) and Spiderette
- Subtle sound effects so you can enjoy your music
- Drag and drop cards or throw them!
- Playable cards wiggle or glow -- turn off for a bigger challenge
- Unlimited Undo
- Portrait and Landscape support
- Game state saved when interrupted
- Detailed Statistics
- Beautiful art, cool particle effects and a fun user-interface

Follow us on Twitter: https://facebook.com/sniderware

Please send your feature requests to support@sniderware.com
What's New in the Latest Version 1.9.1
Last updated on Feb 1, 2023
Old Versions
• Put the status bar back in so that you can see the time etc

Try my other games! You'll love Finished! – Puzzly Solitaire, Eric's Sudoku, and Tiny Little Crosswords
Version History
• Put the status bar back in so that you can see the time etc

Try my other games! You'll love Finished! – Puzzly Solitaire, Eric's Sudoku, and Tiny Little Crosswords
• Many behind-the-scenes updates
This app has been updated by Apple to display the Apple Watch app icon.

Bug fixes and small stuff!

If you have Mac OS X then please try Eric's All-in-1 Solitaire :)

Thanks,

Eric
p.s. Email your problems, questions and suggestions to eric@sniderware.com
• Fixed problems with orientation changes
• Behind-the-scenes updates so your statistics can be shared with my upcoming All-in-1 Solitaire for iOS
• Lots of small fixes

Note: Please go to the game's Settings screen from the Main Menu to make sure everything is set to what you like. Try the new backgrounds. :)

If you have Mac OS X then please try Eric's All-in-1 Solitaire

Thanks,

Eric
p.s. Email your problems, questions and suggestions to eric@sniderware.com
* A few small bug fixes
* Ask users to rate the game if they like it
• Ask "Are you sure you want to give up your winning streak?" so users don't accidentally end their streaks any more!
• Update for iOS 8, 9 and 10 (Phew – Thanks for your patience!)
• Update for 64-bit processors – Note: You may need to update your game preferences on the Settings screen from the Main menu

Please email your comments, requests and suggestions to eric@sniderware.com

Thanks for playing my game,

Eric
p.s. Try my other games like "Eric's Sudoku" and my one-player word game "Tuklu"
NEWS
--------
Try my newest game "Eric's Sudoku" – It's fun and free!

If you like this updated version of Spider Solitaire HD please rate it in the App Store. Thanks!

Like Sniderware on Facebook –www.facebook.com/sniderware

WHAT'S NEW?
-----------------
* New Main Menu!
* 12 new background themes
* All screens are now pop-overs and fit the user interface and art better
* Fixed orientation/lost game tab bar problems
* Added Handedness setting (If you're left-handed I apologize this took so long!)
* New end-of-game congratulations statistics screen
* More Sniderware Games screen
* New game tab bar AND a setting to use the classic version
* Added some stereo panning effects to sounds
* Higher resolution/crisper graphics, especially for iPads with Retina displays
* Added top-level help on main menu
* Added code to help revive bad saved game files for users who have had problems before

Try Eric's FreeCell HD for iPad, and Klondike Solitaire (universal for iPhone & iPad).
UPDATE
================
* New icon and art from Robb Vest including an extra card back and background
* Much faster launch time
* Autoplay is fixed – Get King through Ace, built down, in suit and it will automatically play up to the foundations
* Fixed rotation/orientation issues. Alerts should match device's orientation. No more sideways messages!

Please try my other solitaire games! FreeCell HD and Klondike HD!

Send your questions, suggestions and comments to eric@sniderware.com
UPDATE
-------
* All new high-res artwork! Replaced old backgrounds with new high-res versions and much more. Fixed font/text size problems.
* Fixed repeat deal problem – Sorry about dealing the same game you'd already played.
* Added "Start Deal Over" option (tap New game button to see it)
* Four brand new backgrounds for free!
* Fixed the Show Playable Cards "Glow" so it's easier to see
* Many more smaller bug fixes

NEWS
-------
Try my FreeCell solitaire!

Send comments, suggestions, feature requests and feedback to eric@sniderware.com

*** Fixed crash bug that could happen near the end of a game! Sorry this took so long to figure out. And thanks to all the users who helped me track it down.

News
==============
Try my new iPad solitaire game -- Free Solitaire HD http://bit.ly/cPfNHd
NEWS
* Try my iPad Klondike solitaire game! http://tinyurl.com/EricsKlondike

UPDATE
* Fixed crash bug related to region setting
* Better moves wiggle faster than less interesting moves now
* Added custom font so we can display clock for any language
* Load screen works in any orientation now

Eric's Spider Solitaire HD FAQ
Check the following list to see the minimum requirements of Eric's Spider Solitaire HD.
iPad
Requires iPadOS 13.1 or later.
Eric's Spider Solitaire HD supports English
Eric's Spider Solitaire HD Alternative
You May Also Like