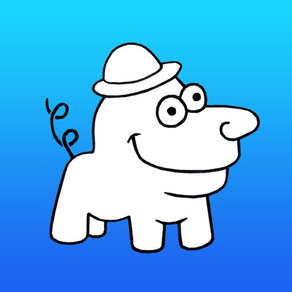 Noodle Doodle - Wacky Wordplay
Punny Puzzles That Stump You
Free
Offers In-App Purchases
1.3.1
for iPhone, iPad and more
Noodle Doodle - Wacky Wordplay Screenshots
About Noodle Doodle - Wacky Wordplay
Laugh while you figure out the funny captions to 500 crazy doodles!

*PURE, INSTANT FUN*
No tricky rules. No registration. Just play and have fun!

*SIMPLE & ADDICTIVE GAMEPLAY*
What's the caption for this one? Tap a letter to see if it's part of the answer. Reveal it and win!

*GUESS THE WORDS. SMILE. REPEAT*
Can you guess the words and unlock the next doodle? Clever, funny puzzles from easy to tricky are waiting for you!

Doodles & Art by Aaron Weissblum
Puzzles by David Arnott & Aaron Weissblum
Programming and Silly Animations by Eric Snider
Music and Sound Effects by Josh Darlington
What's New in the Latest Version 1.3.1
Last updated on Apr 29, 2023
Old Versions
• Replace the consumable "Remove ads & get a LOT of tokens" item with a non-consumable one so users can share it with their families and restore it to other devices more easily etc
• More behind the scenes updates
• If you run out of "Lives" you'll earn more slowly over time
Version History
• Replace the consumable "Remove ads & get a LOT of tokens" item with a non-consumable one so users can share it with their families and restore it to other devices more easily etc
• More behind the scenes updates
• If you run out of "Lives" you'll earn more slowly over time
• Small bug fixes
• Behind the scenes updates for the latest iOS devices
• Updated lots of behind the scenes things to keep Noodle Doodle working great

• Updated GDPR code for users in the European Union
• A few small bug fixes
• Some updates for recent iOS devices
• Support for the latest devices
• Bug fixes
• Try my other games – Tuklu, Tiny Little Crosswords, and Eric's Sudoku

NEWS
------------
Try my newest word game Tuklu!

CHANGES/FIXES
----------------------------
• A total of 500 puzzles
• Full support for big iPhone 6 and 6+ screens
• Fixed the "Couch Potato" achievement
• Bug fixes
* 100 more doodles to solve from Dave & Aaron!
* Game Center achievements for you overachievers :)
* Changed to a more reliable server to handle updating gameplay
* Changed in-app purchase handling to be more reliable
* Show seconds AND minutes until next Life on iPhone "Need More Lives?" screen
* Show the Doodle number on iPad landscape, too
Dave, Aaron and I are so excited to have so many new users. Thanks for playing our game. Aaron is literally working on more doodles as I write this and Dave is coming up with more puzzles for you. And I'll write some more code for you all too :)

APOLOGY!
Sorry about leaving the "Life Timer" display out of the last version! You earn Lives when you run low. I made a mistake and left it out of the Game screen. I am so sorry. You've all been earning one Life every 10 minutes (if you were low on Lives) but the game wasn't telling you.

NEW STUFF
* Display how long until the next Bonus Life on the Game screen! (Earn 1 every 10 minutes if you have less than 8 Lives)
* Updated Help to explain that you really do earn Lives over time when you have less than 8 left. Even if you're not in the game.
* Fixed a mistake in puzzle 272 (Two many U's!)
* Reduced the cost of wrong answers from 2 Lives to 1 Life since that's what users were expecting
* Increased reward for watching a video
* Fixed bug in "Reset Puzzle Progress..." -- Now you can replay all the puzzles from the beginning, if you like

KNOWN BUGS
* D'oh! I made a small mistake on the "Need More Lives?" screen. It incorrectly shows just "seconds" until your next Life. I was rushing to get this build out and we didn't catch that one. The timer on the Game screen is correct though!
* If you have less than 12 Lives you'll earn a free one each 10 minutes! So come back a little later if you're stuck!
* Added more ways to get extra Lives
* Cleaned up a few of the doodles
* Show version number on Help screen
Noodle Doodle - Wacky Wordplay FAQ
Check the following list to see the minimum requirements of Noodle Doodle - Wacky Wordplay.
iPhone
Requires iOS 14.1 or later.
iPad
Requires iPadOS 14.1 or later.
iPod touch
Requires iOS 14.1 or later.
Noodle Doodle - Wacky Wordplay supports English
Noodle Doodle - Wacky Wordplay contains in-app purchases. Please check the pricing plan as below:
Remove Ads and Get 400 Lives!
$3.99
Remove in-between puzzle and banner ads
$2.99
Noodle Doodle - Wacky Wordplay Alternative