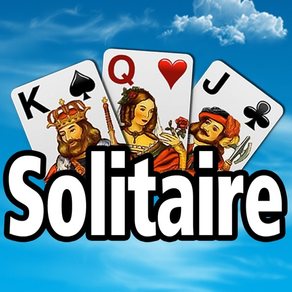 Eric's Klondike Solitaire Pack
Deal 1, deal 3, Casino & more!
1.9.1
for iPhone, iPad and more
Eric's Klondike Solitaire Pack Screenshots
About Eric's Klondike Solitaire Pack
"The best! and just keeps getting better. Never crashes or hangs"
"Love it! ... It is the one game that I consistently play of all that I have downloaded. Eric truly cares what the users think and want. Thanks Eric!"

If you love solitaire you'll love Eric's Klondike for your iPhone and iPad. This is a universal version that looks and plays great on whatever iOS device you have!

Try our Top-ranked card games FreeCell Solitaire and Spider Solitaire! Also available in HD versions for iPad.

DESCRIPTION

Written by the same Eric that developed the Eric's Solitaire Sample and Eric's Ultimate Solitaire for Mac OS. You can drag and drop or tap cards to move them. You can even throw the cards with a shove! Supports portrait and landscape orientations and has a fantastic user interface.

Klondike is the most popular variation of solitaire. This version runs on your iPhone or iPod Touch. Klondike is sometimes called "Patience" or just "Solitaire."

Your game is saved when you quit or get a call and is quickly restored when you return.

FEATURES

- Klondike, Casino Klondike and Klondike Revealed (all three with Deal 1 and Deal 3 options)
- Subtle sound effects so you can enjoy your music
- Drag and drop cards or throw them!
- Playable cards wiggle or glow -- turn off for a bigger challenge
- Unlimited Undo
- Portrait and Landscape support
- Game state saved when interrupted
- Smart Autoplay -- Plays cards up when its safe
- Detailed Statistics
- Beautiful art, cool particle effects and a fun user-interface

Follow us on Twitter: http://twitter.com/sniderware
What's New in the Latest Version 1.9.1
Last updated on Nov 27, 2022
Old Versions
• Fix the deck layout in Klondike Deal 1 on iPhone
Version History
• Fix the deck layout in Klondike Deal 1 on iPhone
• Many behind the scenes updates to keep things working well
• Please try my other games – Eric's Sudoku, Noodle Doodle, and Tiny Little Crosswords (published by Blue Ox)
This app has been updated by Apple to display the Apple Watch app icon.

• Behind-the-scenes updates so your statistics can be shared with my upcoming All-in-1 Solitaire for iOS
• Lots of small fixes

Note: Please go to the game's Settings screen from the Main Menu to make sure everything is set to what you like

If you have Mac OS X then please try Eric's All-in-1 Solitaire

Thanks,

Eric
p.s. Email your problems, questions and suggestions to eric@sniderware.com
• Make the card animations smoother
• Fix some layout problems on a few screens

Please try my newest game "Tiny Little Crosswords." It's crossword puzzle fun in bite-sized pieces for beginners and experts. :)

As always, email support@sniderware.com with any problems, questions or suggestions

Thanks!

Eric
• Fixed problem where a game could sometimes get "locked out"
• Ask "Are you sure you want to give up your winning streak?" when you try to give up a game and you have a winning streak in progress.
• More small fixes
• Updated to work great with iOS 8, 9 and later – sorry about the delay getting to this!

Please try my new word games – Noodle Doodle and Tuklu. Noodle Doodle was picked as a "Best New Game" on iPad!

Email eric@sniderware.com with any problems, questions and suggestions. :)
News
–––––
Try my new one-player word game, Tuklu™ – Two Words, Two Clues, Too Fun
Guess the two words, from the two clues, in Tuklu!

Update
–––––
* Fixed the errors in version 1.6 – Restore "Klondike Revealed Deal 3" to normal. Import old statistics if still available so they work in the new statistics format.
Lots of new things – If you fear change please don't update! And if you have any trouble let me know.

* New Main Menu
* Left/Right handed option
* Works great with iOS 7
* Orientation Lock on iPhone
* The "Seasons" background pack is now included free – So 12 more backgrounds for you.
* Fixed bug where you could get locked out of a game
* More bug fixes

Have you tried my newest game, Eric's Sudoku? Check it out, it's free, fun and easy-to-use.
UPDATE
------------
* New "Seasons Background Pack" upgrade with 12 new backgrounds available as an in-app purchase
* Small bug fixes

NEWS
------------
* Try FreeCell Solitaire!

Thanks for all the great feedback! Please email support@sniderware.com if you have comments, suggestions or problems.

* Beautiful bright new backgrounds – Sky (with gently floating clouds), Beach, Green Felt and Woven
* Crisp new easy-to-read suit art
* Brightened backgrounds
* New "Choose Theme" screen available from Settings screen (Wrench Icon)
* New Icon and launch screen with clouds theme

NEW GAME
--------------
* Try FreeCell Solitaire – Challenging, fun and more than 99% of the deals are winnable! http://bit.ly/g7zDUQ

NEWS
---------------
* Try FreeCell Solitaire for free! http://bit.ly/h04VDz

NEW FEATURES
---------------
* Brand new art! Especially nice on your retina display. No more clouds for now, but the next update includes Clouds, Beach and two more backgrounds. Plus we brightened the new backgrounds and made the suits more solid and easy to see.
* Added "Start Deal Over" option
* Added "Redo"

FIXES
---------------
* Fixed region-based crash. Sorry to everyone who was playing with a non-US region setting!
* Fixed a shuffle issue that could rarely deal you the same deal.
* Lots of small bug fixes

News:
* Try our Spider Solitaire for iPhone, ranked in the Top 10 Card games for 2+ months! http://bit.ly/bwgNTd There's an iPad version too -- http://bit.ly/9rnA34

Update:
* Added beautiful iPad support - high resolution hand-tuned images and more
* Important Bug fix - Fixed crash when starting a new game without moving cards first
* If you love Eric's Klondike please rate the game in iTunes or the AppStore!

* Fixed lost cards bug related to auto-play during orientation change
* Artwork updates
* Fixed text rendering possible crash bug
* Fixed crash on touch on load screen
* Fixed small memory leak
* Added clock to info bar at top
* Added another theme
Eric's Klondike Solitaire Pack FAQ
Check the following list to see the minimum requirements of Eric's Klondike Solitaire Pack.
iPhone
Requires iOS 11.1 or later.
iPad
Requires iPadOS 11.1 or later.
iPod touch
Requires iOS 11.1 or later.
Eric's Klondike Solitaire Pack supports English
Eric's Klondike Solitaire Pack Alternative