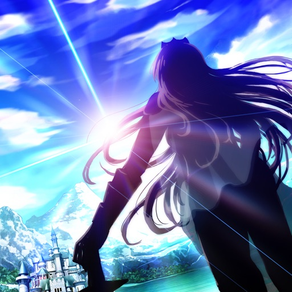 RPG Blue Sky Princess
Let's enjoy the battle game!
Free
Offers In-App Purchases
2.19
for iPhone, iPod touch
RPG Blue Sky Princess Screenshots
About RPG Blue Sky Princess
"Samurai Princess" is a game that combines an RPG game and a fighting game combo.
During the battle you can enjoy the battle by tapping the card with good tempo.

The monsters that suddenly appeared attacked people around the world.
Eizitz, the center of the story, was also busy fighting with monsters.
During that, in front of the princess of Eisai's country

"I can save the world."

The suspicious man who said that visited.
— A strange adventure between the princess and the suspicious man was about to begin.


This game is an exhilarating RPG that enjoys the battle between the two and the card battle.
You can experience exhilaration in a new-style command battle that has never been seen before.

Although it looks like a command-type RPG that looks good at first glance, you can enjoy the action and the RPG in a strange way in "The Princess Princess".

[Q] How does the battle proceed?
The battle is turn-based, and you choose a card when your turn comes.
Each character takes action along the card.

Card is

"Attack with bare hands" card
Iron Sword card
"Magic of Fire" card
Heal magic card
"Bite" card

There are various cards etc. Choose one card from there.

[Q] What's different from now?
After selecting the card, AI automatically selects the target.
So there is no need to choose targets for attack or recovery.

[Q] Why can't I choose the target?
There are two reasons.
The first reason is because I want you to enjoy a fast-paced battle.
I just want you to feel the battle going forward simply by selecting the card you want to act.

[Q] One more thing?
The other is because I want you to enjoy the combo system.

[Q] What is the combo system?
In Command Battle, you can only select one action on your turn, but in "Koto Princess", you can select two or more cards by selecting cards in a timely manner.

For example, you can use three cards in one turn with the feeling of saying "bare hand attack"-> "dagger attack"-> "middle sword attack".

[Q] Can you attack and recover at the same time?
The timing is severe, but good people can attack and recover at the same time.

[Q] Can you use all the skills you remember at the same time if you are good?
Unfortunately, the number of cards you can take in battle is limited, so you can not bring in all the skills you remember.
However, if you select all the cards you took with good timing, you can use all the cards you took with at the same time.

[Q] What card do you bring?
"The Princess of the Rooster" is equipped with a deck system, you can choose the monster to take to battle.
You can set the cards that the monsters take to battle on the deck.

[Q] Are monsters and cards important?
That's right.
The battle situation changes greatly depending on which monster you bring along, what kind of card you give each monster, and in what order.

[Q] What is summoning?
In "The Princess Princess", I will summon and fight the monsters I took with them, but not all monsters can be summoned at the same time.
Summon monsters in the order they are registered on the deck.
So there is also the pleasure of capturing while changing the order of summoning according to the enemy.

[Q] Are there any RPG (hack and slash) elements?
There is.
Monsters and equipment cards such as swords and traps can be obtained by defeating enemies, so it is fun to fight against unknown enemies to find various cards.
Also, these cards have levels that you can raise by collecting the same cards.

[Q] Does the deck change look like it?
There are a number of decks available, so you can switch between the decks and take advantage of them according to the dungeon.


I would like to thank you for the game "Samurai Princess" to proceed with such a feeling.
What's New in the Latest Version 2.19
Last updated on Dec 19, 2019
Old Versions
Version History
Changed to halve the accuracy of hidden enemies.
Create a new link.

[new function]
Add area
Changed so that mp mp grows. Instead, HP was lowered.
-> Thank you for pointing out.

[new function]
Add area
Fixed the rarity of white tiger bracelets.

[new function]
・ Area addition
Summoner added

[new function]
・ Area addition
Macho part skill change

[new function]
・ Area addition
Some fonts have been changed for iOS13 support.

[new function]
・ Area addition
Due to bug fixes, we will update this week early.

[new function]
・ Area addition

[Fix]
-Fixed a bug where the end button may not appear after the battle.

[Balance correction]
・ Cure cures sleep.
[new function]
・ Area addition

[Fix]
-Fixed a bug where bosses do not appear under certain conditions.

[Balance correction]
-Some useful skills can be taught.
I think the volume of updates will drop for a while due to various reasons.
I'm sorry.

[new function]
・ Area addition

[Balance correction]
-Thunderboy MP has been grown. (HP falls instead)
[new function]
・ Area addition

[Fix]
-Casting speed has been removed from the display as it is not used in this game.
・ Correction of some incorrect words.
-Fixed a bug that the summoner effect could not be cut.
-> The summoner's buff debuff can now be cut during the summon.
-> Magic continues to be applied to the summoner regardless of the duration. . .

[Balance correction]
・ Slightly reduced the effect time of the stop counter
-Lowered the HP of some enemies.
-Increased the dexterity of some monsters. (I reduced other abilities instead.)
-Max level party monsters will no longer appear in the candidate cards.
-> However, if it appears as an enemy, it will appear.
[new function]
・ Area addition

[Fix]
-Added a waiting time for the enemy to appear at the start of the battle.
-> There is no effect on game balance.
-Fixed a bug that some weapons do not work properly in automatic battle
-> A fan etc. hit the unit. I'm sorry.
・ Changed description of tracking aura
-> There is no attack speed in this game. I'm sorry.

[Balance correction]
・ During protection, halved the chance of critical occurrence.
・ Slightly improved Twin Lancer's attack power.
-Significantly improved the damage of triumph skills.
・ "Kamaita Lv2" is now available upon request.
New summoner added!
If you can master him, even legend monsters can be handled lightly!
However, the disadvantage is that you can only call 3 monsters ...

[new function]
・ Area addition
・ Addition of summoners

[Fix]
・ Because we received a notice of policy violation from an advertising company, we expanded the lower advertising area. (iPhoneX or later)

[Balance correction]
・ Because it was strange that ultrasound was treated as a breath, it was removed from the breath.
-Reduced the consumption MP of revolving payments by half.
Fixed a bug where the curse Vegalta is not cursed.
Added some user recovery functions.
Implemented a function to reduce the summoning time by increasing the long-awaited level!
However, monsters that originally have a short summon time will not change.
This is where the princess comes in! ?

Added level up to sorting.
This makes it easier to level up items and monsters.

[new function]
・ Area addition
-Level up sort added
-> New items will also be sorted.
・ Some monsters will have a shorter summoning time as their level increases.

[Fix]
・ Fixed a bug that dropped during battle
-> There was a case of falling when doing a penetration attack.
・ Fixed bugs and minor bugs
-> Thank you for pointing out.

[Balance correction]
・ Sorcerer's MP does not increase even if the level goes up. Instead, HP will drop.
・ Slightly increased Undine's MP increase rate.
Changed the recovery time for automatic recovery HP and MP.
I think this will recover a little more efficiently.

In the area strategy using "prayer" with insufficient adventure points, the first battle was made automatic in the area after clearing.
(Because I thought there was not much merit to make a choice here.

[new function]
・ Area addition

[Fix]
-Corrected spelling errors on the magic ring. (Thank you!)
-Changed the behavior of adventure by "prayer" used when there are not enough adventure points.

[Balance correction]
-The stop counter has been changed to counterattack against missiles such as bows.
・ Changed the increase in leveling up Harpy and Sylphide to MP instead of HP.
-The party monster appearance rate has been lowered because there is a possibility that new party monsters cannot be acquired due to the increase in the number of party monsters.
We will sell the prayers that require combo boost with "100-> 80".
If this is popular, we will leave it as it is.
In addition, summer vacation sale changes goods and continues.

Combo Boost is more convenient!
Until now, the second combo timing has not been displayed, but if you use combo boost it will also be displayed after the second.
Even if you connect combos in a timely manner during combo boost, the number of combos will not decrease, so please use this opportunity!
This should reduce combo errors and enjoy the combo.

Make automatic battle more convenient!
We have deployed a fully automatic button to push it to the end!
And I prepared "Skip" at the time of card selection.
-> Rare equipment is not skipped so please use only when you want rare items!
-> "Skip" can also be used with area treasure chests.

The monsters put in the party grow!
Until now, I had to explore various caves to find the cards I got.
However, from this version, the cards held by party members will fall when it comes to adventure.
You now have more chances to get cards even if you are exploring an area where you don't have monsters!
The probability of falling affects the card's rareness.
(This is a monster card only. Equipment cards can not be obtained.)
-> This function is experimental and may be corrected.

Add Summoner!
This summoner is a special summoner whose summoning time is 1/3 when he has a recovery card.
However, it has the disadvantage that it can not be summoned (very time consuming).
Because it is too strong, the summoning points after the middle stage are slightly less.

[new function]
・ Add area
・ Deploy "Auto Combat Button"
-Growth of monster cards in the party.
-> You should now be able to grow monsters that can only be created by synthesis!
-> Until now, special monsters could be created by random composition, but with this modification, it is now possible to create only with recipes. (If you are lucky, please let us grow.)
・ Add deck change button
-> A shortcut to change deck has been prepared to the left of the deck name.
・ Summoner added

[Modify]
-Corrected because the wording of the boss of the tower of trials (wind area) was wrong.
-> I am sorry if I have cleared it.
・ We fix effects of our friends.
・ Other minor bug fixes (I can not adjust the volume currently flowing at the time of volume change)
-Fixed a bug that continuous attack continues during stan.
-> In the middle of the attack three times, even if you stun (at the counter etc.), the attack continued, but if you stun it can not continue.
・ Fixed because the wording and message of armor equipment were wrong.

[Balance correction]
・ We reduced calling time of awakening warrior and lizard knight.
-The number required for composition when reviewing the level-up number has also changed (due to a bug), so I changed it.
-> The required number of rare cards has been reduced, and the number of normal and cheap cards has been increased.
-Add summon monsters that can be called in pairs.
・ If you want to hide and attack the enemy, change it so that you can also attack the enemy who is being captivated.

[Acknowledgement]
I'm sorry.
The wording of the armor equipment was mistakenly written as the armor equipment.
The function is "armor equipment" and the word has become armor equipment, and I was wondering which way to match, but because there may be people who already have it, it was adjusted for "armor equipment".
We will prepare strong bonds in the future!
Excuse me. I've put in a bug that I can create characters that I can't associate with.
If you make it by mistake, please consider yourself lucky and put in a party.
(It is a character scheduled to be a friend in the next update ...)

However, it will be appreciated if you think that it is a souvenir since it does not grow after this update.
-> We lowered the website significantly to enjoy the game and changed it to a sharp character.

Also, the following synthesis specifications will be restored. (Because you can not synthesize the latest monster)
However, the result of composition has been made not to create the monster that was the source of the summon.
Super refreshing with version upgrade! (Good to be)
The battle can be customized from Ver. 2 this time.

The combo assist now works properly and you can play more refreshingly!
(I just fixed the bug, but ... I'm sorry for the inconvenience.)

In commemoration of Ver.2, we will do summer vacation start sale!
As we want you to play carefully during summer vacation, we will sell some "Prayer" items. (The purchase amount will increase)
Please play a hard game on this occasion!
-> Sale may end without notice.

We are increasing the review fee to commemorate Ver. 2 this time.
Please review if it is good.

Combo Boost is easier!
Because it was still difficult while saying the combo boost, I made the judgment more loose this time.
"Ah! Combo lost without connection ..." is lost!

We will increase adventure points in response to your request.
The adventure point for each character has been increased by 1 (2 for Challenge Pack buyers).

Hard mode anytime!
Until now, there was a change in speed with hard and easy, and when playing with easy after playing with hard, the timing of the combo was out of place or the store was bad.
"Hard mode" was added to solve this condition.
If you select the hard mode, the battle speed will be the same as the hard speed in Easy or Normal.

Add Super Hard Mode!
Super Hard Mode offers a faster battle than Hard Mode.
To be honest, if you're not really good, the combo will never be connected.
If you have confidence in your arms, please try a challenge.
The Super Hard Mode is also recommended when you have no time, as the battle will end soon!

Combo Assist is accurate!
It was corrected because the position of the combo assist may be shifted.
Especially in the hard mode it was largely off. I'm sorry.
Now that the position and timing of the combo are in sync, I think you can play the game more refreshingly.
With this adjustment, the timing of the combo has been slightly changed.
-> I think it is a level that you probably do not notice.

I made it possible to turn off the effect for those who are heavy in effect and the combo is not connected.
If you turn off the effect, it will only be sound and damage, so I think that processing will not be delayed.
This has a taste, so if you are anxious, please play once.
-> Not all effects, but most effects will not be displayed.
-> It will feel a bit lonely when everyone says "If you turn off the effects it is fun!"

[new function]
・ Change function of battle speed addition (hard super hard)
-> You can change it from the setting on the upper right.
・ Add area
・ Start sale

[Modify]
-Correct position of combo assist.
-> The timing of the combo is slightly changed.
Minor bug fixes (such as defeated enemies never disappear)
・ The battle effect is off
-> If the processing of effects such as magic is heavy and the combo doesn't connect well, please cut off this effect.
-> This setting is ON / OFF only for the screen effect, so the timing does not change.

[Balance correction]
-Equipment acquisition rate UP in the normal hard.
-Combo Assist has become easier.
・ A little bit of adventure point of each character
・ Enemy who has a wind counter bounces his breath as well.
-Modified the ring of hits a little upward.
・ When I was equipped with a ninja sword without equipping a shield, the processing that the attack power rose was missed.
-> If you have a ninja sword without equipping a shield, it will be quite effective.
・ Fixed to prevent lower level monsters from being synthesized than synthetic monsters when synthesizing
-> However, rare monsters may be high level normal monsters. (As a result, it becomes weak)
-> If the rareness of a monster is high, the rareness after composition is also likely to be high.
-We have adjusted the number of monster cards and some of the equipment cards.
-> Thank you for always pointing out.
-Fixed the bug that MP doesn't go up when leveling up race.
I want to change the speed during replay!
In response to the request, we have made it possible to change the battle speed during replay.

I slightly increased the amount available with combo boost.
Please enjoy the combo!

It seems that there is a monster that can only be synthesized.
Added as an insertion element.
-> Thank you for your advice.
-> Please give me a level that says, "If you composited the cards you accidentally got over with no hint".
Please do not search by force (sweat

Be careful if you breathe in a windy area as you breathe in breath, as you will find it very difficult.
See the enemy and switch by combo to fight.

You can now switch decks on the screen during the adventure.
If you have had trouble switching to the deck screen so far, it would be good if stress is reduced with this ...

During adventure The skill acquisition is displayed on the deck displayed at the top of the screen (main screen).
I made it gray when there was no one who taught me the skills.
It remains yellow if there is someone to teach you the skills.

There are too many cards collected for both monsters and equipment cards.
I'm sorry.
The required number has been lowered from this version.

There was a bug that some of the creating monsters were created by synthesis.
I'm sorry.
I was planning to delete it, but some of them have already been acquired so I will leave these monsters as they are.

These monsters have not been prepared yet, so we will add monster skills from now on.
In addition, I will do balance adjustment of the ability.
-> Very small, but it has the ability to be corrected downwards. (There is also a part that is corrected upward.)
-> Because that skill is added to those monsters, those monsters are corrected upward as a result.

Changed some conditions for combining or not.
-> It has become impossible to combine without a high-level monster created.
-> The process of composition itself does not change, but the cases that can be synthesized are reduced.

[new function]
・ Add area
-Combat speed change at replay
・ Additional map switching processing on the adventure screen.

[Modify]
-Fixed a bug that a monster synthesized by synthesis may be returned.
・ Adjust the number of cards of cheap and normal
・ Changed to gray when there is no one who can teach the skill
-Fixed a bug that added damage to magic.
-> Although the damage to get on the breath is also a bug, I think that some people are advancing the capture based on this, so this will be a specification.
・ Some changes to the conditions for combining or not.
-> Because the thing that the author was creating as a creation schedule monster is created by synthesis (sweat
・ Link change of wiki
-> Since the previous wiki required login, I changed the wiki link.
・ Change the order of teaching skills

[Balance correction]
-Increased the priority of the bow at the first strike.
It becomes "first strike defense"-> "bow attack"-> "front guard first"-> "back guard first".
-Adjust the ability of some monsters created by composition.
-The amount obtained at the time of combo boost purchase is slightly increased.


[About notification]
Notification is given at the time of card selection, and the selected cards overlap.
This response is difficult and may not be possible.
If this happens, please restart the app.
You can then make your selection again.
(Can be used even if you make an incorrect selection, etc.)
We will give 50 combo boosts as an update bonus.
Please use the boost and enjoy this game.
※ I hope that you can introduce this game to your friends if you like. (Crave

From this update, monsters that will take a big deal of damage if they are covered will appear.
If you are an adventurer relying on your cover, be careful and fight!
There are also many thrilling battles where you can not use this card depending on the enemy, so please ask for this game to make an instant decision on how to fight within a limited time.

Added monster composition.
From now on, hints will appear in the conversation between the two, so please do not miss it!
In addition, those who did card gathering may be able to make it with no hint.

Even if it is a card gathering same kind of monster that can not be obtained, if you fight with a monster created by synthesis, that monster will be acquired.

I changed about the magic target.
Details are described at the bottom.

Using "prayer" in automatic combat seemed to be resisting, so I turned it into money.
As this has been changed experimentally, it may be restored.
In addition, adjustment of the amount may be included.



[new function]
・ Monster synthesis
・ Combo boost replenishment at the time of update
・ Add area
・ Posting to Twitter
-> Please introduce it to your friends if you like.

[Modify]
-Fixed a bug that darkens the effect of cure poison.
・ It was displayed whether "early" or "slow" when "wanted".
-Fixed the combo not to be able to continue if you die back or fall asleep in the middle of the combo.
-Fixed a bug where sleeping monsters stole other people.
-Since the name of Battle Ant was covered, I changed the name to Spearant.
-> It does not affect those who have already changed the name.
・ We made the order displayed by town movement in order of name.

[Balance adjustment]
・ We change automatic battle from "prayer" to "money"

[Magic target]
Magic target selection is chosen according to the following rules.
The above condition is prioritized in the case where two or more conditions are written.
The following conditions are the same for the enemy.

・ Enchant, Heist
Most frequent attacks
Attack power x hit ratio is highest

※ This magic is subject to magic because of the above conditions.
Heist almost never falls on a wizard.

・ Protect
One of the targets the enemy can attack
What is covered
Avant-garde
Enemy who is likely to receive more damage by enemy attack (random)

※ Priority is given to avant-garde magic from among the targets that the enemy can attack.
The last condition is basically aimed at the one with low defense, but it may be random because the enemy's attack is uneven.

[Mutter]
Since Evil Crown is in a vanguard, I could even hold a bow.
I made it possible to match and equip the skill and the book, I am sorry that this is a complete mistake.
I hope that you think it is a good news.
感谢您一直玩"Azusa Princess"。
我们纠正了1.2功能中的难点部分。

[修改]
·我们启用了关闭组合提升功能。

[说明]
在组合提升期间,如果显示"OK!",则数字将减少。
所以,如果组合成功并且"好!",则提升不会减少。
对不起,解释不清楚。

此外,我们目前正在调查整个攻击后经过下一轮的问题。
似乎有一些条件,但这种现象尚未重现。
对不起
RPG Blue Sky Princess FAQ
Check the following list to see the minimum requirements of RPG Blue Sky Princess.
iPhone
Requires iOS 10.0 or later.
iPod touch
Requires iOS 10.0 or later.
RPG Blue Sky Princess supports English, Japanese, Korean, Traditional Chinese
RPG Blue Sky Princess contains in-app purchases. Please check the pricing plan as below:
RPG Blue Sky Princess Alternative